Terry Waite CBE
Humanitarian worker, author, lecturer and former hostage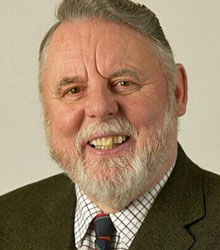 About
In January 1987 Terry came to the world's attention when he was kidnapped in Beirut. At the time he was the Archbishop of Canterbury's Assistant for Anglican Communion Affairs under Robert Runcie and had been sent as an envoy for the Church of England to try to secure the release of four hostages including journalist John McCarthy. He was held for five years the majority of which was spent in solitary confinement.

Following his release he was elected a Fellow Commoner at Trinity Hall in Cambridge, England, where he wrote his first book, Taken on Trust. This quickly became an international best-seller and headed the lists in the UK and elsewhere, paving the ground for two following, equally successful titles, Footfalls in Memory and Travels with a Primate.

Terry has been in constant demand as a lecturer, writer, and broadcaster across the world. His unique insight into the experience of solitary confinement and negotiating under acute pressure has been of particular interest in lectures delivered to business executives faced with stress, loneliness and difficulties in the work place.

Terry's ability to communicate clearly and with good humour has meant that he is in constant demand as a speaker not only to the business community but to professionals in religious groups, social work, education and medicine.
Testimonials
Considering booking Terry Waite CBE for your event? You may find the following client testimonials and comments helpful. To enquire further about Terry Waite CBE for corporate and private bookings, click here or call us on +44 (0)1372 361 004.
I thought your presentation was succinct and informative and was relevant to the audience in the room - this was no easy feat given the mixed audience.
Books and DVDs
Below you'll find products by Terry Waite CBE which may be available for purchase. Click the image to view on Amazon's website. Clients often like to purchase books and other merchandise as autographed give-aways at events where Terry Waite CBE is appearing. For bulk purchases, please speak with the Booking Agent handling your event.
You may also be interested in...