Charley Boorman
TV adventurer, actor, presenter and writer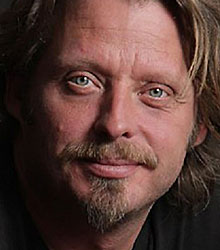 About
Charley Boorman is the epitome of the modern adventurer... in pursuit of fresh challenges away from the success of his personal life.

Charley is the son of costume designer Christel Kruse and renowned film director John Boorman. Thanks to his father he got an early start in the film business as a child actor, first appearing in Deliverance (1972) then returning to cinema in Excalibur (1981) and The Emerald Forest (1985) directed by his father. In Hope and Glory (1987), also directed by his father, Charlie appears in a non-speaking role as the young German Luftwaffe pilot shot down, parachuting into the small village. Other films include The Serpent's Kiss (1997) on which he met Ewan McGregor, and The Bunker (2001).

"Long Way Round" (2004) was a motorcycle trip from London to New York via Europe and Asia with Ewan McGregor in 2004. It was the realisation of a dream born out of two friends' love of motorbikes, the freedom of the open road, and the adrenaline rush of an extreme challenge.

This trip was recorded and then later made into a TV series, book and DVD. The series was shown around the world and the DVD and book became best sellers. It has now sold the world over into many territories including USA, Australia, Canada, Japan, France, Spain, and Italy.

Along with producer Russ Malkin (from Long Way Round) and a motorcycle team, Charley competed in the Dakar Rally in January 2006. The event was filmed and the series Race To Dakar began on Sky2 in the United Kingdom later that year.

During the rally Charley injured himself and was forced to retire from the race after five days. In May 2007, he started another journey with McGregor: this time taking part in Long Way Down - a trip from John O' Groats in Scotland, to Cape Town, South Africa. This was first televised on BBC2 in October 2007.

April 2008 saw Charley Boorman commence "By Any Means", which took him all around the world starting in his home town in County Wicklow, Ireland and ending in Sydney, Australia. He set out to complete the journey "by any means" using local transportation appropriate to the area. He travelled the world on various forms of transportation using air travel only when necessary, accompanied only by his producer and cameraman.

In May 2009, one year later, Charley commenced his second series of By Any Means - a trip that would take Charley and his team from Sydney to Tokyo via the Pacific Rim - from Freshwater Park on the Northern Beaches of Sydney and heading up to the Central Coast of NSW by motorbike. An open invitation was issued for fellow motorcyclists to join him on this first leg - a local newspaper reported approximately 1500 riders took part. The trip ended on the Rainbow Bridge, Tokyo in August 2009 and has been shown on BBC2 in the UK.

2010, Charley Boorman completed a UK-wide live tour, playing to capacity crowds... The tour has been asked to go to many other countries to fulfil International demand for this best-selling Adventurer. In January 2011, Charley Boorman took part in a national live-event TV program (on behalf of his chosen Charity Unicef). He become the winner of the inaugural Famous and Fearless program on Channel 4.

Charley Boorman has been actively supporting the United Nations Children's Fund (UNICEF) since 2004. Since then he has been on a number of visits to UNICEF projects. In 2009 Charley was also made president for Dyslexia Action.
Books and DVDs
Clients often ask about purchasing books for giveaways and delegate packs. Below you'll find a selection of products by Charley Boorman. Click the images to view on Amazon's website. For bulk orders, please speak with your Booking Agent.
You may also be interested in...