Cally Beaton
Comedian, writer and business mentor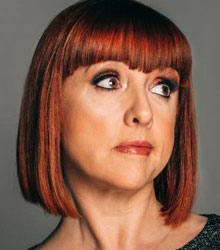 About
Cally Beaton is a natural storyteller full of intelligent, distinctive and punchline-rich material and her star is fast on the rise. She has held senior management positions at some of the biggest media companies in the world including MTV, UKTV and Viacom.

Early in her career she headed an independent television production company that was bought by ITV's Carlton Television (where a certain David Cameron was on the board). She left to set up a successful creative consultancy company, and went on to do a 10 year stint as Senior Vice President at the US studio giant Viacom. There, Cally oversaw a multi-million dollar budget for channels including Nickelodeon, MTV, Comedy Central and Paramount; if you want someone to blame for bringing South Park and SpongeBob SquarePants to the world, you need look no further.

She has a Masters in Neuro Linguistic Programming and has worked for many years, alongside her not inconsiderable day jobs, as a sought-after Executive Coach to the great and the good in industry, public life and politics.

It was while working for Comedy Central, on the road with the late, great Joan Rivers, that Cally Beaton was nudged into the sphere of performance. Acting as an unofficial business event warm-up for Ms. Rivers, it was she who told Cally she had what it took to be a stand-up and so, as a 45 year old single parent, Cally first took to the stage.

She quickly cemented her position as one of the most exciting and distinctive new stand-ups in the country, with her unflinching, acerbic and intelligent brand of comedy. She has appeared on BBC2's QI multiple times and as a guest on Radio 4's Museum Of Curiosity, as well as BBC Radio 6 Music and as a regular contributor on BBC London.

Her first foray to The Edinburgh Fringe in 2016 was a big success. Her show 'Cat Call', a double header with Catherine Bohart, received a Malcolm Hardee Award. She then followed up with her debut solo hour in 2017, 'Super Cally Fragile Lipstick'. The show was a sell-out hit, receiving multiple 4**** reviews, national press coverage and picked as Best of Edinburgh Fringe by The Arts Desk.

After multiple Finalist credits in competitions in the UK & the US, Cally went on to win the prestigious 2018 Piccadilly Comedy Club New Act of the Year competition, after being tipped as one of the comedians to watch for 2017 by Chortle.

Drawing on her vast experience, eclectic life and unique wit, she is able to strike the perfect balance of smart, insightful, and entertaining. She is a gifted host and MC, with a natural ability to work a room, and gives sharp, inspirational and thought-provoking keynote and after-dinner speeches.

Cally Beaton has a hard-won skill set few comedians can boast and has worked with – to name a few – Deutsche Bank, Sony Pictures, IMG, Endemol, Channel 4, Hat Trick, ScreenSkills, Women in Film & Television, UCL. PWC, Aviva, Sky Television, L'Oreal, Lloyds, Wella, Capgemini and Disneyland.
Testimonials
Very positive. Fab prep and engagement up front, Cally put the time in to get to know Aviva and use familiar terminology on the day. She was extremely professional and personable in terms of how she interacted with the comms team. A pleasure to work with. Really engaged, good balance of key messages mixed with humour.
Finding a good closing speaker for the PICG Conference is always a challenge, with expectation from the delegates for the day to end on a high. Suffice to say that Cally was superb, bringing energy to the end of the day, with a perfect mix of insight and wit. When you get people saying they could listen to the speaker for another hour or more then you know they have hit the mark. On a personal note, from my perspective as the organiser of the conference, Cally was a delight to work with, breath of fresh air and I would happily recommend her.
Excellent speaker. Inspirational and funny! Really engaging and well delivered.
You may also be interested in...