Brutus Gold Lovetrain
An interactive 70s cabaret style show - a parody of the disco years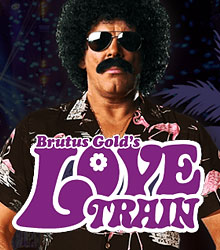 About
The Love train is a sincere parody of the disco years. Headed by the seventies 'legend' Brutus Gold - the original Medallion Man and 'the host with the boast', this is an interactive cabaret style show, which is a mixture of comedy, fun, mad-cap one liners from Brutus and music that dancing was made for!

The show is presented with a spectacular authentic Studio 54 style stage set, lighting, special effects, and a sensational sound system. The Lovetrain cast features talented performers dressed in meticulously re-created costumes, who deliver classic dance moves and routines to the soundtrack of the seventies.

In 1997 Brutus and the Lovetrain were presented with the Molsen-Beda "Club Act of the Year" award by Angus Deayton and Zoe Ball at the prestigious ceremony in Birmingham.

Whether it's an exclusive party for a 100 guests or a festival of 10,000 people the Lovetrain brings people of all ages and nationalities together in total participation! With their unique charm they have the power to make even the hardest audience 'Don a Wig and Do the Hustle'.

Since 1989 the show has performed to over 3 million people worldwide, including the MTV Music Awards, celebrity parties, corporate events and music festivals in Switzerland, Denmark, Italy, and Israel.
Performance
Brutus Gold Lovetrain Performance Formats

OPTION ONE:
Full theatre production comprising of (full size Studio 54 stage set):
1) Brutus Gold and ten main cast members.
2) Tony Martini singer.
3) Rusty Bridges percussionist.
4) A fully themed theatre style Studio 54 stage set comprising of neon DJ console, Studio 54 cast entrance with illuminated steps and handrails, themed bar area with seating, full flooring section with illuminated steps and handrails, themed seating areas in white leather with tables and table lamps, themed side wall scenery with 70s photo frames, star cloth, flying Love Train logo in front of stage curtain, props and plants etc to complete the scene.
5) Pro warm up comic/DJ (one hour).
6) Duration of main show one hour forty five- two hours maximum.
7) Full Lighting rig including par lighting and intelligent lighting and lighting technician with desk.
8) Opus audio 15k hi/fi system with stage monitors and sound engineer.

OPTION TWO:
1) Brutus Gold and 6 main cast members.
2) Small stage set with 70s DJ console glitter risers,star cloth,cast entrance and risers, logo.
3) Duration main show - one hour forty minutes max
4) 7.5K opus sound system with sound engineer.
5) Basic par lighting on stands and four intelligent lights.