Brutus Gold Love Train
An interactive 70s cabaret style show - a parody of the disco years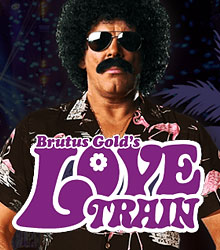 About
The Love train is a sincere parody of the disco years. Headed by the seventies 'legend' Brutus Gold - the original Medallion Man and 'the host with the boast', this is an interactive cabaret style show, which is a mixture of comedy, fun, mad-cap one liners from Brutus and music that dancing was made for!

The show is presented with a spectacular authentic Studio 54 style stage set, lighting, special effects, and a sensational sound system. The Love Train cast features talented performers dressed in meticulously re-created costumes, who deliver classic dance moves and routines to the soundtrack of the seventies.

In 1997 Brutus and the Love Train were presented with the Molsen-Beda "Club Act of the Year" award by Angus Deayton and Zoe Ball at the prestigious ceremony in Birmingham.

Whether it's an exclusive party for a 100 guests or a festival of 10,000 people the Love Train brings people of all ages and nationalities together in total participation! With their unique charm they have the power to make even the hardest audience 'Don a Wig and Do the Hustle'.

Since 1989 the show has performed to over 3 million people worldwide, including the MTV Music Awards, celebrity parties, corporate events and music festivals in Switzerland, Denmark, Italy, and Israel.
Performance
Brutus Gold Love Train Performance

FULL CONCERT STYLE PRODUCTION

Fully authentic 1970s disco stage set including Padded 70s DJ booth with backlit archway, Glittered stepped central podium riser, Glittered doorways with glittered step risers and full Silver glitter Latin percussion kit.

Main cast of 6 performers (all in meticulously recreated costume), plus a warm up host, Lead host and Live vocalist.