Faithettes
Paloma Faith's live band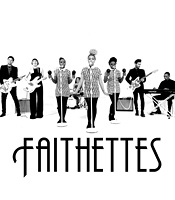 About
Faithettes are the UK's must-have party band, presenting a killer show of pop and soul covers from '70s to present day with all the tightness and vibe of one of the world's top live festival acts.

Faithettes began life as Paloma Faith's live touring band, playing hundreds of shows worldwide over five years including Glastonbury, Montreux Jazz Festival, New Orleans Jazz Festival, and countless sell-out arena shows. Their mutual love of performing, electric onstage chemistry and the unrivalled tightness of their arrangements have taken the private events scene by storm since their launch in 2015. Faithettes are a close-knit collective of world-class singers, musicians, and friends, delivering the absolute best in live musical entertainment and receiving rave reviews for every performance.

Faithettes are available as an 8-piece lineup (3 female vocals, 2 guitars, keys, bass & drums); with added saxophone or killer 3-piece horn section (saxophone, trumpet and trombone); or in reduced lineups depending on the scale of your event. Faithettes singers are also available as a 3-piece vocal section for recording sessions.

Other artists Faithettes members have worked with include Paloma Faith, Jamie Cullum, Rihanna, Lily Allen, The Specials, Craig David, Shalamar, Ladytron, The Orb, Kate Nash, Noisettes, Laura Mvula, Ella Henderson, Gary Barlow, Jennifer Hudson, KT Tunstall, Dave Stewart, Rebecca Ferguson, Jazz Jamaica, Florence + The Machine, & Alesha Dixon.
Testimonials
All I can say is Wow, Wow and Wow. Faithettes were truly loved by everyone (and I mean everyone) that attended. I haven't stopped getting emails, texts etc saying just how fantastic the band were. Please pass on how delighted we were...We were blown away by the band. Fantastic sounds from fantastic people.
What a lovely bunch of people - we had a wonderful time looking after and enjoying the Faithettes, couldn't have asked for more flexibility or better professionalism.
The band were absolutely fantastic on Saturday night- we had to drag the guests off the dance floor.
A big thank you to Faithettes. Their performance was fantastic and incredibly well received - they managed to get the perfect vibe. They were a joy to work with.
They were 100% awesome, 100% professional, 100% friendly and everyone had a great time! Great sound and production too. All I need to do now is find another reason to book them!
I cannot tell you how amazing Faithettes were, we couldnt have wished for a better band to play! They made our wedding party! The dance floor was packed! Everyone was raving about them on the night and we have just come home to thank you letters all mentioning the Faithettes and how fab they were!
We had a wonderful time on Friday night and the band were incredible! Made the party. Here's hoping we have another reason to celebrate/party soon so we can book the Faithettes again!
You may also be interested in...