Bruce Grobbelaar
One of the world's greatest goalkeepers of all-time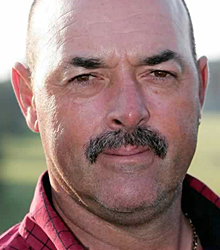 About
South African born goalkeeper Bruce Grobbelaar was one of the most recognisable stars of his generation. He played most of his professional career with Liverpool FC in the English Premier League during the 1980s and 90s and has gone on to become a fantastic and sought-after guest speaker, who always entertains and delights any audience.

Undoubtedly one of the most outstanding keepers in the game, Bruce is known as much for his skill at stopping the ball as he is for his extrovert and outgoing personality. Most famously, Bruce did his wobbly leg dance during a penalty shoot out to distract players, and is renowned not only for his personality but also his unorthodox and frequently spectacular style of play.

Bruce has a particularly interesting background for he was born in South Africa and brought up in Zimbabwe thereafter leaving to play first in Africa and then in the North American Soccer League for Vancouver Whitecaps. They lent him to play for Crewe Alexandra in 1980 where he quickly came to the notice of Liverpool who followed him back to Canada and signed him as cover for Ray Clemence. However, after Bruce had played just three reserve games for Liverpool, Clemence was transferred to Spurs and he took over, becoming a colourful and invaluable member of the team.

Having signed for Liverpool in March 1981, and having played for Liverpool for many seasons, Bruce Grobbelaar has been privileged to be part of the make-up of one of the World's greatest and most respected clubs. However, increasing violence on the terraces and especially the events of Brussels in 1985, very nearly led Bruce to give up playing until he realised it would be simply surrendering to the mindless violence of hooligans. The tragic Hillsborough disaster followed in 1989 and Bruce was the first player to be aware of the Leppings Lane end troubles and was first to offer and call for assistance.

League and Cup wins again in 1990 (the last time the club did so) and Bruce was one of the heroes of the side. He eventually moved to Southampton in 1994 and stayed until 1996. After leaving Southampton, Bruce Grobbelaar attended two FIFA Coca Cola Fertura One and Two in 1996 and 1998 respectively along with gaining invaluable coaching experience with the Zimbabwe national side.

His coaching positions carried on in South Africa. Firstly, Bruce came to the rescue of Seven Stars in 1999, being appointed to the side to try and get them out of a relegation position. This he did. He found a position with Supersport United, but again half way through the season they were looking at relegation but he steered them to a mid table position, then went on to manage Hellenic City in Capetown.

Everything about Bruce is out of the ordinary and he is one of the most flamboyant and likeable figures in football today. In all he made 33 appearances for Zimbabwe and made 574 first class football appearances in all of his glittering career. Now a popular after dinner speaker, Bruce Grobbelaar is once again living in the UK and available for after dinner speaking at dinners, lunches, golf days and of course making personal appearances.
Speech Topics
Bruce Grobbelaar is a regular on television around the world, taking part in charity games and TV specials as well as acting as a pundit. As such, there are few more charming and colourful characters in football than Bruce Grobbelaar for anyone seeking a brand ambassador, after dinner guest speaker or sports award presenter.
Tags for Bruce Grobbelaar
You may also be interested in...