Brendan Cole
Professional dancer and star of the BBC's Strictly Come Dancing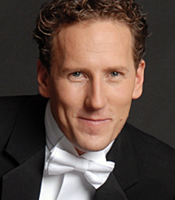 About
As a Professional Dancer, Brendan Cole is best known for his charismatic performances and stunning choreography on the BBC's Strictly Come Dancing. His audacious exchanges with the Strictly judges make for great viewing and ensure he is one of the most popular dancers on the show. Brendan has participated in every series of Strictly and he has partnered some of the most stunning celebrities, including presenter/actress Kelly Brook, supermodel Rachel Hunter and Olympic gold medalist Victoria Pendleton.

Since Brendan was first invited to take part in Strictly, his stage and celebrity career has taken off, including a stage debut in pantomime, guest spots on celebrity TV shows, corporate event appearances and motivational speaking. His love of singing saw him take part in two television singing shows, the BBC's Just The Two Of Us singing with Beverley Knight and ITV's Sing If You Can, raising money for the Teenage Cancer Trust.

Now a world wide phenomenon, Brendan Cole was a member of the judging panel of the New Zealand version of the series (Dancing with the Stars) for four years, where his obvious expertise and forthright manner earned him the reputation of being "the Simon Cowell of the judges". He has appeared on television shows about subjects that range from sport to cookery. He's a good sport but makes no apologies for wanting to win!

Born in 1976 in Christchurch, New Zealand, Brendan Cole was a mischievous six-year old when he first studied ballroom and Latin American dance, fast becoming junior and youth champion, and going on to win international competitions.

Travel brought Brendan to London, where the vibrant dance scene convinced him to make the capital his base for work, study and teaching dance. From here he toured worldwide, competing in amateur competitions. Turning professional in 2000, Brendan and his then dance partner Camilla Dallerup became the New Zealand and Asian Open professional champions, reached the semi's of The International, United Kingdom Open, British Open and World Championships. Throughout his career he has been involved in choreographing stage shows and various performances for dancers worldwide.

Brendan has had his own UK tour since 2009 where he is host, choreographer and song and dance man to packed houses, rapturous applause and fabulous reviews. January 2013 saw the launch of a new and exciting version of the tour, Licence to Thrill, with Brendan and the team visiting 26 venues across the country, including London and Ireland for the first time.

Brendan Cole is in constant demand to bring his stunning dance show to corporate events and the standard set-up is for himself accompanied by three additional dancers. He is also available for select personal appearances.
You may also be interested in...