Arlene Phillips
Choreographer and former judge on BBC1's Strictly Come Dancing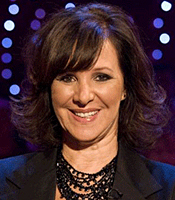 About
Arlene Phillips is a world-renowned choreographer with her work seen in widely in theatre, feature films, concert arenas, television, music videos and commercials.

Arlene first came to the attention of the British public when she created the dance group Hot Gossip. Her choreography has been seen in theatre, feature films, concert arenas, television, music videos and commercials. Arlene appeared as a judge on Strictly Come Dancing (2004 - 2008), Strictly Dance Fever and she collaborated with Bruno Tonioli to create DanceX and Dance War. She recently created a new musical drama Britannia High for ITV and appeared on Sky TV's Grease The School Musical.

Theatre Choreography- Flashdance, The Sound of Music, Grease, We Will Rock You, Saturday Night Fever, Starlight Express, Joseph and Jesus Christ Superstar (US tours), EFX at the MGM Grand Matador, Time, A Clockwork Orange (R.S.C.)

Arena and Concert - British entry Eurovision 2009, Strictly Come Dancing Live Tour, The Music of Andrew Lloyd Webber, Michael Flatley's Lord of the Dance, The James Bond Gala, Midsummer Classics at the Royal Albert Hall, The Bratz UK Arena Tour, Black goes with Everything, An Evening with Gedeminas Tarandas (Bolshoi Ballet).

Film Choreography- Arlene has worked with many notable directors John Huston (Annie), Ridley Scott (Legend) starring Tom Cruise, Clint Eastwood (White Hunter, Black Heart), Ken Russell (Salome's Last Dance) and Terry Jones (Monty Python's Meaning of Life). She has worked with The Village People (Can't Stop The Music) and The Pet Shop Boys (It Couldn't Happen Here).

Television Credits- include The Kenny Everett Video Show featuring dance group Hot Gossip with Sarah Brightman, Peak Practice, Dame Kiri Te Kanawa & Friends, Lesley Garrett - A Night At The Opera and An Evening With Michael Ball, The Brit Awards, The Royal Variety Show, The Prince's Trust, Children in Need, Party in the Park and the legendary Party at the Palace.

Music Videos- AC/DC, The Bee Gees, Duran Duran, Erasure, Aretha Franklin, Boy George, Whitney Houston, Elton John, Kiss, Freddie Mercury, George Michael, Queen, Cliff Richard, Diana Ross, Tina Turner and Robbie Williams. Arlene has choreographed over one hundred TV commercials in England and America including, 7-up, American Express, Burger King, Coca-Cola, Dr. Pepper, Levi Jeans, Vidal Sasoon and Yellow Pages.
You may also be interested in...