Alesha Dixon
Singer-songwriter, presenter and BGT talent show judge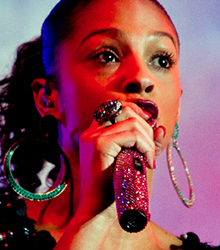 Copyright © Dafydd Thomas
About
In a glittering career that has transformed her from home counties hopeful to household name star, Alesha Dixon has worn many hats over her astonishing career

The singer, dancer, rapper, model, television presenter and talent show judge stepped into the spotlight as a finger-snapping rude girl, one third of the brilliant girlband Mis-Teeq, and part of the original bedrock UKG scene that went on to take the world between 1999-2005.

Next she was the sleek millennial solo artist and a finely tuned groove machine. Then, in an unexpected career diversion – from 2step to the ballroom – Alesha fashioned a brilliant second career as Saturday evening television royalty, first on the BBC's Strictly Come Dancing, then as a judge on the phenomenally successful Britain's Got Talent.

Possessing one of British pop's most distinctive and defining laughs, Alesha, one of seven children, planned on becoming a PE teacher after completing a diploma course in sports studies. It was only after she was approached on a train by a talent scout, who happened to be forming a group, that she considered a career in the music industry; eventually putting her degree course at Loughborough University on hold to join a dance academy, where she met her future bandmate Sabrina Washington.

With another two girls joining them, the quartet formed UK R&B band Mis-Teeq, releasing their first single, Why?, in 2000, though soon after Zena McNally left the group. A year later the remaining trio launched their debut album Lickin' On Both Sides, followed in 2003 by Eye Candy. However, in 2005, just prior to the release of their greatest hits album, Alesha and the girls announced they were splitting to concentrate on solo careers.

The ensuing 12 months proved particularly difficult for Alesha, as she not only parted from her record company but also her husband, So Solid Crew member MC Harvey. But it wasn't long before she came bouncing back, waltzing her way to victory winning the fifth series of Strictly Come Dancing in 20007, before joining the show's panel as a judge in 2009. In 2012, after completing her third year as a judge on Strictly, she quit the show to become a judge on ITV's Britain's Got Talent.

Alesha Dixon is the singer and author of nine Top 10 singles and three platinum albums; her musical gifts have been rewarded with MOBO awards and Brit nominations. Her effervescent single, the boy does nothing, is a million-seller and reached the Top 10 in 12 global territories. Her album The Alesha Show was one of only five platinum albums in Britain in 2010. She has proven time and again that British musical talent, delivered sincerely, from the heart and on point, can slay on the world stage.
Books and DVDs
Clients often ask about purchasing books for giveaways and delegate packs. Below you'll find a selection of products by Alesha Dixon. Click the images to view on Amazon's website. For bulk orders, please speak with your Booking Agent.
You may also be interested in...