Louie Spence
One of the UK dance industry's most unique talents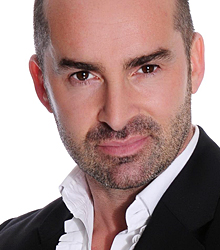 About
Louie Spence is one of the UK dance industry's most unique talents with a reputation that precedes him. He attributes his astounding flexibility to his privileged council estate upbringing, where his Mum used to fold him up into an MFI cabin bed.

His two older sisters attended a local dance school in Essex and when faced with the choice of going to work with his Dad at a tyre and exhaust company, or attending dance school with his sisters, Louie donned his lycra leotard and high kicked his way to becoming a professional dancer.

Convinced of his raw talent, his parents took out a second mortgage to send him to the prestigious Italia Conti Performing Arts School. No sooner than you can say grande plié, young Louie landed his West End debut in Bugs Malone aged 13. He was then talent spotted and ask to join BBC's primetime Hot Shoe Show, dancing alongside Wayne Sleep and Bonnie Langford.

After graduating with full honours in all aspects of dance, Louie back-flipped himself into the original Award-Winning Cast of Miss Saigon, where he helped to create the show's thrilling acrobatics. He was snapped up by Italy's RAI UNO TV and moved to Rome to join the legendary TV show, Fantastico. This earned him the coveted title of Primo Ballerino and he danced with such stars as Tina Turner, Ray Charles, Whitney Houston and Stevie Wonder.

He became restless and, in search of new challenges, left RAI TV returning to London to pursue a career as a commercial dancer. During the 90's his twinkle toes never touched the ground as he toured and worked with Take That, E17, 2 Unlimited, Boyzone, Eternal, Björk, Kavanagh, Kim Mazelle and Jocelyn Brown. He was one of only five professional male dancers selected to accompany the Spice Girls on their debut SPICEWORLD tour travelling the globe for a whole year.

On his return, Louie joined the West End cast of Cats as Magical Mr. Mistoffelees (a name he has great difficultly pronouncing) and for a year wore a Lycra cat suit with a yak's-hair wig and tail.

Encouraged by friends and colleagues, Louie decided to hang up his dancing shoes and start an agency at Pineapple Dance Studios where he is currently Artistic Director. His critical eye and high dance standards meant that he only recruited the crème de la crème of dancers and choreographers for the biggest names in the business such as Kylie, Mariah Carey, Robbie Williams, Will Young, Jamelia, Sugar Babes, Emma Bunton, Danni Minogue, Rachael Stevens, Lemar, Brian Mcfadden, to name but a few.

The agency quickly amassed a great reputation and it was inevitable that television would come knocking. Louie's no nonsense personality, with his in-your-face delivery proved too tempting for TV executives. They cast him as Boot Camp mentor on the hugely successful 'Bump N Grind'. It was also aired on BBC America and other North American channels. This began the snowballing of his television career as he went on to choreograph Channel 4's Big Brother Panto; he also appeared as a dance expert on E4's Big Brother's Big Mouth, Channel 5's Battle Pop Stars, My Bare Lady for Fox America and Bravo.
You may also be interested in...