Bradley Walsh
Stand-up comedian and television presenter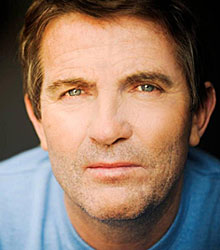 About
Bradley Walsh, once best known as a professional footballer with Brentford, has now become a household name on a different playing field.

After being named 'Top TV Personality of The Year' by the Comic Heritage Awards, Bradley has been on national television non-stop. He injected his own brand of anarchy into 'The Wheel Of Fortune' whilst hosting the show for ITV. However, the BBC were so impressed with Bradley's style that they snapped him up to present the 'National Lottery'.

Bradley can also act as he proved by playing the lead role 'Eric' in Michael Cooney's brilliant comedy 'Cash On Delivery' in the West End. Reviews were ecstatic;

Best known as an energetic and charismatic comedian, Bradley's big break came when he literally stole the show at 'The Royal Variety Performance'.

He's a regular on 'Des O'Connor Tonight' and is one of the UK's most sought after comedians both as a live attraction and as a television performer. He has recently hosted a second series of LWT/Channel 5's 'The Big Stage'. It was the first variety show on British for 7 years and has now spawned a deluge of imitators.

Last year saw Bradley breaking into television acting; firstly in a cameo role in Carlton TV's 'The Thing About Vince' and then in a major role as villain Larry Harmless in 'Lock, Stock' the television spin-off from the film 'Lock, Stock and Two Smoking Barrels'. He also had great success with his own show on Capital Radio, which was broadcast throughout the network on Sundays and made his big screen debut in the film, 'Mike Bassett, England Manager'. Bradley is currently starring in Coronation Street.

Bradley is one of those special and highly imaginative comedians with a gift for observing the ordinary and making it funny. He is one of the rare breed of comedians who can perform in the alternative Comedy Store, as well as being a crowd pleaser in family entertainment. He has also reaffirmed his talent for broadcasting and presenting and proved himself a new and exciting acting talent.