Anne Robinson
Established TV presenter famous for presenting The Weakest Link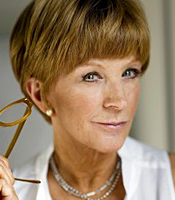 Copyright © Anne Robinson / Chris Haston
About
Anne Robinson has been described as acting like a cross between Cruella de Vil and Hitler's mother, a dominatrix, a bossy school ma'am, the Creature from the Black Lagoon, and a POW camp commandant, she takes it as a compliment.

All this for her famous role as presenter of the quiz programme The Weakest Link in which the contestants were able to vote off their rivals to win a relatively small amount of money.

Her arrival on TV was as presenter of Points of View then as main anchor in Watchdog where she relished the opportunity to grill smug corporate directors. Anne Robinson had honed her Rottweiler approach to journalism through years of writing columns in a variety of British tabloid newspapers.

An icon of British broadcasting, Anne Robinson is a skilful speaker and presenter loved and hated in equal measure.
You may also be interested in...