Anna Watkins MBE
Olympic gold medalist - rowing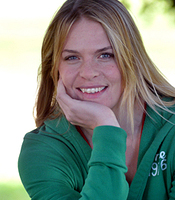 About
Anna Watkins MBE is an Olympic champion and double world champion in rowing. She was brought up in Leek, Staffordshire, a place with plenty of rain but no rowing lake. So she found rowing relatively late in life, at university, having been encouraged by a neighbour to give it a go. Anna failed to excel at any sports at school but found she had a natural affinity for this new one.

Anna has represented Great Britain at the senior level for the past eight years and has competed in all rowing disciplines but has concentrated on the double scull. More recently Anna has forged a formidable partnership with Katherine Grainger CBE in the double scull and to this day they are undefeated in the double. Anna and Katherine had a storming 2010 culminating in winning gold at the World Championships in New Zealand. This was repeated in 2011 despite spending the majority of the season battling with a back injury and then contracting norovirus during the World Championship regatta.

At the London Olympics, under huge pressure, they took Olympic gold in front of an ecstatic home crowd. Incredibly the partnership have also won gold in every World Cup regatta they have entered, the total winning streak currently standing at 23 races over three years. Anna and Katherine were named World Rowing Crew of the Year in 2010 and 2012.

Anna Watkins was appointed Member of the Order of the British Empire (MBE) in the 2013 New Year Honours for services to rowing.
Speech Topics
Anna Watkins is an experienced motivational speaker, having worked with a wide range of companies and employee groups across all industry sectors. She is uniquely able to combine her scientific background with her elite sport experience to draw out meaningful insights into the secrets of success.

More than just a motivational story, Anna's clear and honest analysis of the planning, leadership and teamwork that went into the race has a raw relevance for business today.

In particular Anna can focus on:
• Approaches to leadership: no compromise, or flexibility?
• The use of data in progressing performance
• Planning for success
• The perfect team
• A way to win for women

Anna Watkins can speak for an audience of hundreds, or lead an intimate workshop with your leadership team. She is always happy to tailor her content to your precise requirements. She also enjoys visiting schools and educational facilities.
Tags for Anna Watkins MBE
You may also be interested in...