Greg Searle MBE
Olympic gold medalist and one of Britain's greatest rowers of all time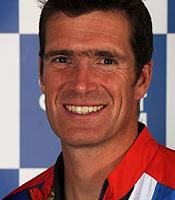 About
Greg Searle, one of Britain's greatest rowers of all time, set his sights on making sporting history in 2012 by becoming the first man to win Olympic Gold twice, with a 20 year gap between the wins. Having teamed up with brother Jonny and cox Garry Herbert to win Olympic Gold in the coxed pairs at Barcelona 1992, he returned four years later in Atlanta to win bronze in the men's four but dropped from first to fourth in a thrilling final in Sydney 2000, and retired from professional rowing soon after.

Greg spent a decade away from the sport, before the lure of a home Olympic Games brought him out of retirement in 2009 at the age of 37. He succeeded in qualifying for the eight, and at the London 2012 Games Greg's GB crew headed eventual winners Germany at halfway in the final, before running out of steam with Canada pipping them on the line for silver. "I feel proud of what I have achieved. The fairy tale would have been to win gold, but bronze is not bad." Greg added: "At least I've won something for all my hard work".

Greg Searle's truly inspiring story is one of passion, loyalty, determination and self-belief – and his application to achieving his goals has earned him enormous respect from his peers and those who have followed his career.

Greg started rowing in 1985 after watching his brother Jonny win the Princess Elizabeth Challenge Cup at Henley Royal Regatta and Martin Cross win Gold at the LA Olympics in 1984. He rowed for Hampton School until 1990. He remembers these as some of the best years' rowing and training he ever did. In 1988 he was selected in the coxed pair for the Junior World Championships where he finished fourth. For the following two years he was in the junior coxless four and he became only the second British junior (after Tim Foster) to win two World Championships gold medals.

After leaving school he moved from Hampton to Molesey Boat Club and straight into the GB team. Greg won his second junior gold in 1990 and became the first athlete to achieve selection for both senior and junior World Championships in the same year by gaining a seat in the men's eight alongside brother Jonny.

Greg eventually retired from rowing in 2001 to take up the position as grinder in the America's Cup team. He competed in the A.C.Challenger Series in 2002 with GBR Challenge. He has also worked as a management consultant at Lane 4 Management Group since 1997, a company set up by Olympic swimmer Adrian Moorhouse, working with senior executives as a personal coach or facilitating team meetings and running developmental workshops.
You may also be interested in...