Kat Copeland MBE
Olympic rowing gold medalist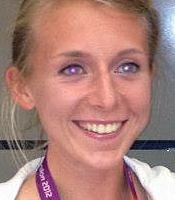 About
Katherine "Kat" Copeland is an Olympic lightweight women's double scull champion alongside partner Sophie Hosking, claiming victory with a time of 7:09.30. The duo, who only teamed up this season, were the fastest qualifiers for the final and continued their fine form to beat China by two seconds, to become champions at the London 2012 Olympic Games.

Kat was brought up in Stokesley, North Yorkshire, and was first introduced to rowing at the age of 14 at Yarm School. After realising her potential Kat started rowing seriously from the age of 16 at Tees Rowing Club. Kat experienced success from an early age having triumphed in a number of youth events including gold medals in the 2007 and 2008 Coupe de la Jeunesse; a prestigious under 18 international rowing regatta.

During the 2011 Season, Kat Copeland raced in the lightweight women's single scull at the World Rowing under 23 Championships in Amsterdam where she won a convincing gold. Kat then raced in the same boat type at the World Rowing Championships in Bled, Slovenia, comfortably winning both her heat and her semi-final. Kat then progressed to the A-final where she came 5th in a very close field.
Speech Topics
Away from the water Kat Copeland is a confident, energetic, and determined individual who strives for excellence in everything she does. She enjoys sharing her experiences and is an inspiring motivational public speaker who frequently speaks at schools, clubs and businesses.
Tags for Kat Copeland MBE
You may also be interested in...