Angela Epstein
Journalist, social commentator and broadcaster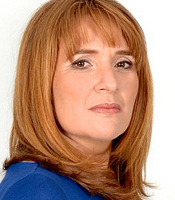 About
Angela Epstein is a highly experienced journalist, social commentator and charismatic broadcaster. With more than 25 years media experience, she can inject verve, humour, knowledge and energy into any event.

Angela was born in Manchester and studied at Manchester University. Following a postgraduate course in newspaper journalism, Angela began her career in local and regional newspapers and now contributes regularly to national newspapers, radio shows and television programmes. Her credits include Question Time, Newsnight, This Morning, DayBreak and Sunday Morning Live - Angela can be relied upon to turn in a lively, highly articulate performance while maintaining a warm, personable approach. She is often called upon to provide commentary on current issues for a range of radio programmes too - including Radio 2`s Jeremy Vine Show, various programmes on Five Live as well as Woman`s Hour, PM and You and Yours on Radio 4.

As a freelance print journalist Angela Epstein writes regularly for the Daily Mail - specialising in health stories, lifestyle articles and in sharply written personal opinion pieces. And with over 20 years experience of writing human interest stories - ranging from celebrity interviews to powerful personal tragedies - she is entirely at ease with any given situation. This adaptability and flexibility means she will be able to accommodate whatever the requirements are for your event.

She has been published in The Daily Telegraph, Daily Express and The Mirror as well as in many women`s magazines including SHE, Cosmo, Glamour, Essentials, Marie Claire and Woman. Angela was also the subject of a Channel 4 Cutting Edge documentary about 'real life' journalism.

Angela Epstein was the ghost writer of "The Art of the Loophole: Making the Law Work for You" by celebrity lawyer Nick Freeman (published by Hodder & Stoughton ) - and so has developed a lay interest in the law too.

Aside from her media career, Angela has chaired and anchored many corporate and fund raising events. Most recently she hosted a `Loose Women` evening in Manchester, chairing an esteemed panel which included Edwina Currie. Other previous engagements include chairing a gala evening for 400 people with Denis Avey, a former British solider whose best-selling wartime memoir The Man Who Broke Into Auschwitz tells of his choice to exchange places with a Jewish prisoner in the notorious Nazi death camp.
Testimonials
It takes a rare soul to moderate a discussion with such spontaneity, humour, wit, flair, empathy, sensitivity and intelligence. And sense of wicked fun. Really impressive, Angela.
You may also be interested in...