Andrew 'Freddie' Flintoff
Former England International cricketer and BBC Sports Personality of the Year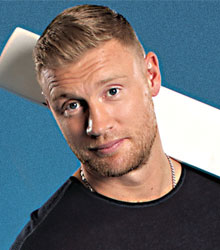 About
Andrew 'Freddie' Flintoff's first representative cricket was for Lancashire U11 team, and he continued up the ranks within Lancashire, making his first class debut in 1995. Known for hitting the ball harder than any other cricketer, helped by his height of 6'4" he was able to bowl accurately at 90mph. Inevitable international honours came along when he made his Test match debut in 1998 versus South Africa. His One Day International debut then followed in 1999 versus Pakistan.

Andrew made his biggest impact for England in the summer of 2005, when he played a major role in regaining the Ashes from Australia. His contributions were legendary, and won him the BBC Sports Personality of the Year award. In September 2010, with his status as one of the biggest players in the game, Flintoff retired from cricket due to a recurring knee injury.

Since retiring from cricket Andrew Flintoff has developed a strong, credible career in broadcasting. In March 2010, he became a team captain along with Jamie Redknapp on the Sky1 television sports panel show 'A League of Their Own'. ITV2 produced the successful 'Freddie vs. the World' in which he went head to head with some of the worlds sporting greats in a variety of daring challenges across the globe.

Always ready for a challenge, Andrew Flintoff joined the team at Discovery UK in 2011 to produce the documentary 'Alone in the Wild'. He was completely isolated without any aid, help or production team, making his way through the wilderness with only a handheld camera to record footage.

Andrew kicked off 2012 with a new documentary for BBC1 with 'The Hidden side of Sport' - The documentary took an insightful look at the illness within Sport and how it is dealt with. It featured some fantastic contributors such a Vinnie Jones and Ricky Hatton. In the same year he took on the challenge of training to become a professional heavyweight boxer, and defeated his American opponent in his debut fight at The MEN Arena, Manchester.

In 2016 Flintoff released his tell all autobiography 'Second Innings: My Sporting Life', a celebration of Andrew Flintoff's 20 years in cricket. The much-anticipated book reveals the unseen sides of his career and personality. This was followed up two years later by his fantastic second book Do You Know What?: Life According to Freddie Flintoff, where he tries to answers all of life's most unfathomable questions in a hilarious mix of anecdotes, rants and ramblings.

In 2019 he took on the role of host for BBC's Top Gear and Andrew Flintoff's media career continues to go from strength to strength.
Books and DVDs
Clients often ask about purchasing books for giveaways and delegate packs. Below you'll find a selection of products by Andrew 'Freddie' Flintoff. Click the images to view on Amazon's website. For bulk orders, please speak with your Booking Agent.
You may also be interested in...