Ally McCoist
'A Question of Sport' celebrity panelist and Scottish footballing legend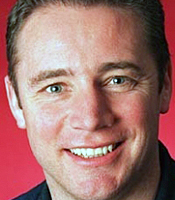 About
Scottish footballing hero Ally McCoist joined A Question of Sport, the UK's longest running sports quiz, as team captain in 1996 at the same time as his opposite number John Parrott.

Ally was born in Bellshill, Lanakshire on 24 September 1962. Just 16 years later, his success story began when the Fir Park Boys Club member was approached by both Glasgow Rangers and St Johnstone and he surprisingly plumped for the latter.

He made his debut during the 1978/9 season, scored 22 League goals in the 1980/81 season and then moved to Sunderland. Two years later, Ally returned to Scotland where he was signed to Rangers, becoming the greatest goalscorer in club history. Known now as Super Ally, he won over the Ibrox fans and became a Scottish footballing legend. Particularly outstanding was his hat-trick against Celtic in the 1984 League Cup final and scoring the winning goal in his only Scottish Cup Final victory in 1992.

Having scored a club record 250 League goals for Rangers, throughout his career Ally's total number of goals amounted to 355 in his 583 games played. 34 of these were scored in the 1991-1992 season, when he was awarded the European Golden Boot and named Scotland's Player of the Year. The following season he won the Golden Boot again and helped Rangers to the brink of the European Champions' League Final.

His face and voice have become familiar on television as co-presenter of McCoist and MacAulay and as a regular football broadcaster on ITV's coverage of the Premiership and Champions League and the World Cup. He has also made his mark on the film industry, starring alongside screen legend Robert Duvall in the football movie A Shot At Glory.
You may also be interested in...