Alfie Boe OBE
Star of Les Miserable and the UK's favourite tenor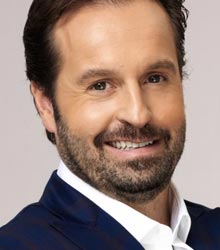 About
Alfie Boe is fast becoming the UK's favourite tenor and it is easy to see why. In 2010, at the request of Sir Cameron Mackintosh, he took on the lead role of Jean Valjean in the sold-out 25th anniversary concert performances of Les Miserables at the O2 Arena in London. Alfie was such a success, that he was asked to reprise the lead role again in the summer of 2011 in the West-End to great critical acclaim.

Since then Alfie has released top selling solo albums which have sold in excess of 1 Million copies: 'Bring Him Home', 'Alfie' and 'Storyteller'. 2012 was an instrumental year which saw Alfie on sold-out UK and USA tours, performing on the balcony of Buckingham Palace at the Queen's Diamond Jubilee concert to a television audience of 16.9 million and the release of his best-selling autobiography 'My Story.'

At the age of 17, Alfie Boe became an apprentice mechanic at the TVR factory in Bispham, Blackpool. He enjoyed entertaining his colleagues by singing opera arias while he polished the cars, and one day was overheard by a client with connections in the music industry who was so impressed, he suggested Boe should go to London and audition for the D'Oyly Carte Opera Company. Alfie's audition was a success and he gave up polishing cars to embark on a singing career. He has never been able to trace the customer who suggested he go for the audition. Alfie Boe moved to London and studied singing at the Royal College of Music, the National Opera Studio and the Royal Opera House's Vilar Young Artists Programme.

All of the music that has inspired Alfie over the years has influenced his singing, his ambition and his artistry. And after years of formal opera training – at the D'Oyly Carte, the Royal College Of Music, The National Opera Studio and the Royal Opera House – he reached a point where he wanted to stretch his wings and sing for new audiences.

He took flight in 2002, leaving behind his education to play the lead in Baz Luhrmann's production of La Bohème on Broadway. Many – critics, opera managers, singers and directors – said it was a controversial staging and that he was making a wrong move. "They were always questioning, 'Why are you doing this La Bohème on Broadway?'", says Alfie. "And I said, 'Why not?' That was always my answer. 'Why not?'". They didn't see Broadway as a legitimate opera stage, and objected to the production's use of microphones for voice enhancement – although more often than not, Alfie's mic would actually fall off, and he'd end up singing acoustically. He never told Luhrmann; nobody could tell the difference anyway.

Alfie had dabbled with bringing opera to different audiences a few years earlier, having been employed as 'Opera Dude' on ex-Inspiral Carpets' keyboardist Clint Boon's solo albums and tours. And after Broadway, there was no turning back – he travelled America singing musical theatre songs from the 30s and 40s on the Boston Pops tour, released albums inspired by his favourite Neapolitan songs and his late father's favourite composer Franz Lehar, toured the UK with the Fron Male Voice Choir, and was nominated for a slew of Classical Brits, as well as performing in countless operas for, among others, the ENO and the Royal Opera House.

In 2019 Alfie was awarded an OBE for services to music and charity in the Queen's Birthday Honours list.

Alfie Boe is available for private and corporate events and can perform either to guitar or with a live band.
Books and DVDs
Clients often ask about purchasing books for giveaways and delegate packs. Below you'll find a selection of products by Alfie Boe OBE. Click the images to view on Amazon's website. For bulk orders, please speak with your Booking Agent.
You may also be interested in...