Alastair Stewart OBE
Journalist and presenter (ITV News)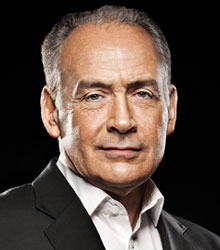 About
With a long and illustrious career behind him, Alastair Stewart is known as one of the UK's most successful journalists and presenters. He is one of the few people to have presented all of ITN's main news programmes and is winner of the Royal Television Society Award for Presenter of the Year in 2005.

Alastair's career started in 1976 with ITV's Southern Television, in Southampton working as a reporter, industrial correspondent, presenter and documentary worker. Alastair Stewart recorded one of the last interviews with Lord Mountbatten, and spent six weeks in Ford Open prison to make a half hour documentary. Over the years he has presented many of ITN's special programmes on the ITV network including the Royal Weddings of the Prince and Princess of Wales and Duke and Duchess of York, Budget & State Openings of Parliament, State Visits and numerous by-elections.

Alastair Stewart also made history in 2010 when he conducted the first ever live TV Leaders Debate between the party leaders, ahead of the General Election. He has also interviewed all Prime Ministers since Edward Heath and covered the Gulf War, the fall of the Berlin Wall, resignation of Tony Blair and outbreak of the Israeli-Lebanon conflict.

He presented "Alastair Stewart's Sunday" for BBC Radio 5 before moving to GMTV where he presented "Alastair Stewart's Sunday Programme" until July 2001. From 1993-2009, Alastair anchored ITV London's, "London Tonight", and presented "Police, Camera, Action!", a police video programme.

In 2006, Alastair Stewart was awarded an OBE in the Queen's Birthday Honours list for his services in broadcasting and charity. In 2008, he was made an Honorary Doctor of Laws (LLD) by the University of Bristol. In 2010, he was made an Honorary Doctor of Law (LLD) by the University of Plymouth.

Aside from his broadcasting career, Alastair Stewart is an active ambassador and supporter of numerous charities. Alastair is Vice President of Action For Children and Homestart and Patron of the Lord Mayor Treloar College for disabled students, the disablism charity Scope; the mental health charity Sane; the medical research charity, Hope; the Crimestoppers Trust, Kids4Kids; the brain tumour Samantha Dickson Research Trust; Just A Drop; the Loomba Trust; and MoMo Helps. He is also a vice Patron of The Zito Trust and The Mental Health Foundation and an Ambassador for Investors In People, Crisis – the homeless charity - and Care International.

Alastair Stewart is also a Governor of Ravensbourne College of Design and Communication and a former Trustee of the Royal Air Force Museum.
Speech Topics
In the corporate world, Alastair Stewart specialises in interviewing senior figures and chairing debates and discussions for commercial clients, professional groups and societies. He is a masterful conference host and event facilitator.

His comprehensive range of corporate clients include:

Financial services – Zurich, Guernsey Funds Forum, Jersey & Guernsey IoD annual debates, Virgin money, Jeddah Economic Forum, Royal London Life, Association of British Insurers, Royal London Group, CityCorp, TESCO.

Business Groups – CBI & IoD conventions.

Media – NBC, 'Downton Abbey' press conferences and launches, ITV commercial events, 'Spectator' magazine events, Society of Editors, The Guardian.

Catering – Aramack, Sodexho, 'Arena' "View from the Top" interviews, House Keepers Association

Tourism – ABTA, ITT, TUI, several travel agent consortia, Virgin, UK Inbound, OTE (time-share),

Health – BUPA

Public Affairs – Seven Hills, Webber Shandwick,

Lobby Groups and professional organisations – Police Federation, University of the Arts, Sunderland University, Police Superintendents Association, UK Water,

Government departments – DEFRA , Environment & Climate Change, BIS
Testimonials
The event was a huge success, perhaps the best ever, and has had nothing but positive feedback - a big thanks to Alastair as always for his professionalism and his excellent role as moderator of the event - he is a pleasure to work with!
There's no-one we'd rather entrust with hosting ITV's annual Downton Abbey press event than Alastair Stewart. With the entire UK media in one screening theatre, Alastair deftly controls and moderates the cast press conferences, putting each actor and production executive at ease whilst ensuring journalists achieve entertaining and engaging copy. Alastair is a consummate professional whose skill, expertise and enthusiasm for his work shines through. We're delighted he's agreed to host again this year.
Alastair was again brilliant and is much admired by the audience for his ability to get into the topic, his retention of information and his involvement of key people to keep things moving.
Tags for Alastair Stewart OBE
You may also be interested in...