Rt Hon Sir Alan Duncan
Former Conservative MP and Foreign Minister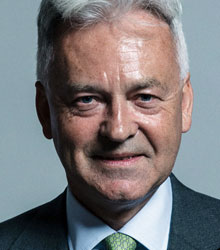 About
Sir Alan Duncan was formerly the UK's Foreign Minister responsible for Europe and the Americas, and until November 2019 was the Member of Parliament for Rutland Melton. He is in that rare category of people who have combined a political career at the heart of government with real-world experience of business.

Educated at Merchant Taylors' School before studying politics and economics at St John's College, Oxford, Alan was elected President of the Oxford Union and went on to win a Kennedy Scholarship at Harvard University, where he studied in the early 1980s.

After graduating from Oxford, Alan worked for Shell International between 1979 and 1981, and then as an oil trader for Marc Rich and Co from 1982 to 1988. In 1988 he became an independent consultant and adviser to foreign governments, specialising in oil supplies, shipping and refining. Then in 1989, he set up the independent Harcourt Consultants to advise on oil and gas matters, and has specialised in The Middle East for more than 30 years.

Throughout his early years in the oil industry, Alan was part of the pioneering set of figures whose enterprise created the free market in oil after the market shocks of 1974 and 1979 broke the supply patterns previously dominated by the oil majors. It is that commercial world to which he has now returned.

For the past thirty years, Alan Duncan has been at the centre of British political life. He has been at the heart of every Conservative Party leadership race since John Major succeeded Margaret Thatcher in 1990, spearheading William Hague's 1997 Conservative leadership campaign, and holding positions such as Shadow Secretary of State for Trade and Industry, and Shadow Minister for Justice.

In David Cameron's government, Alan held the role of Minister of State for International Development from 2010 to 2014. He then went on to become the government's Special Envoy to Yemen from 2014 to 2016, before concluding his parliamentary career as Minister of State for Europe and the Americas.

Seen as one of UK politics' most forthright personalities, Sir Alan Duncan is regarded as one of the most connected and informed experts on the Middle East and, as Boris Johnson's deputy in the Foreign Office, sat at the very midst of everything in government that took place between the EU referendum and the UK's eventual exit from the EU.
Tags for Rt Hon Sir Alan Duncan
You may also be interested in...