The Rt Hon. William Hague MP
Leader of The Conservative Party (1997 - 2001)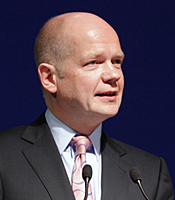 About
William first grabbed the headlines when he addressed the Conservative conference as a 16-year old activist. After Oxford and an early career at McKinsey & Company, he went on to become MP for Richmond, Party Leader, Foreign Secretary and Leader of the Commons.

At the Foreign Office William's portfolio covered events in Syria and Libya, the removal of British forces from Afghanistan, Russia's annexation of Crimea, the terrorist threat and relations with the EU. He travelled more extensively than any of his predecessors, and put added diplomatic focus on the UK export drive.

Closer to home William led the talks that resulted in coalition with the Liberal Democrats. A combination of foreign and domestic roles gives him rare insight into the body politic and the causes behind growing global instability. As well as shining a light on geopolitical developments he explores the impact of economic trends, advances in tech, migration, demographic change and the growth of religious fundamentalism.

Away from politics William has built a reputation as a bestselling historian. He is also co-Founder, with Angelina Jolie Pitt, of Preventing Sexual Violence in Conflict.
Speech Topics
William Hague is a seasoned raconteur (lauded by Hillary Clinton as the Beckham of after dinner speakers). He reveals his favourite tactics at Prime Minister's Questions, the many and varied leadership styles he's encountered, and the dangers of mixing together politicians, wine and the media.
Books and DVDs
Below you'll find products by The Rt Hon. William Hague MP which may be available for purchase. Click the image to view on Amazon's website. Clients often like to purchase books and other merchandise as autographed give-aways at events where The Rt Hon. William Hague MP is appearing. For bulk purchases, please speak with the Booking Agent handling your event.
You may also be interested in...