Al Pacino
Legendary Academy Award-winning actor and director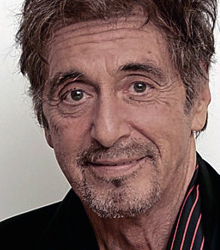 Copyright © Ruben Nepales
About
Known for his legendary role as Michael Corleone in Francis Ford Coppola's classic The Godfather, Al Pacino is a household name A-list actor whose performances have captured audiences around the globe. Through his uncanny ability to inhabit characters on either side of the law – from gangsters to law-abiding citizens – Pacino reveals absolute devotion to the craft of acting.

A native of East Harlem, New York City, during his teenage years "Sonny", as he was known to his friends, aimed to become a baseball player, though he was also nicknamed "The Manlet". Al Pacino flunked nearly all of his classes except English and dropped out of school at 17. His mother disagreed with his decision; they had an argument and he left home. He worked at a string of low-paying jobs, messenger, waiter, cleaner and postal clerk, in order to finance his acting studies.

Al Pacino began his acting career on stage with award-winning performances in The Indian Wants the Bronx and Does the Tiger Wear a Necktie? His fame took off with The Godfather, Serpico, and Scarface, all of which earned him multiple Academy Award nominations. His knockout performance in 1992′s Scent of a Woman scored him an Academy Award for Best Actor. He has also appeared in such celebrated films as Carlito's Way, Donnie Brasco, Dick Tracy, and Glengarry Glen Ross.

Al was accepted into the prestigious Actors Studio in 1966 and studied under legendary acting coach Lee Strasberg, who was known for advocating "method acting", an approach that was becoming increasingly popular at the time. He made his directorial debut with the documentary Looking for Richard, for which he won a Directors Guild Award for Outstanding Directorial Achievement in a Documentary.

Al Pacino has been nominated and has won many awards during his acting career, including eight Oscar nominations (winning one), 15 Golden Globe nominations (winning four), five BAFTA nominations (winning two), two Primetime Emmy Awards for his work on television, and two Tony Awards for his work on the stage. In 2007, the American Film Institute awarded him with a lifetime achievement award and in 2003 British television viewers voted Al Pacino as the greatest film star of all time in a poll for Channel 4.
Speech Topics
In his thrilling after dinner presentations "An Evening with Pacino", Al Pacino – one of cinema's true legends – offers audiences a glimpse into his unique career, sharing his insights into the art of acting and some of his favourite anecdotes, and exploring the myriad highlights of one of the most celebrated careers in acting history, from his time off-Broadway in the 60s right up to the present day.

In intimate surroundings, Al Pacino expertly blends video clips, character readings and personal commentary in a multimedia program that will leave audiences wowed and inspired. The evening also gives audience members a rare opportunity to speak directly with Al Pacino in an audience question and answer session.
You may also be interested in...