Adam Hart-Davis
Scientific writer and broadcaster ('What The... Did For Us' BBC Series)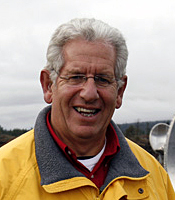 About
Adam Hart Davis lives in the west of England and currently works as a freelance photographer, writer and broadcaster.

Born on 4 July 1943, he was educated at Eton college where he obtained A-Levels in physics, chemistry and maths. His studies have fuelled a lifelong passion for science and Adam went on to gain a first class degree at Oxford University and a DPhil in organometallic chemistry at York.

Before presenting, he spent five years in publishing and then 17 years at Yorkshire Television as a researcher and producer on series such as Arthur C Clarke's World of Strange Powers. Adam also invented and produced Scientific Eye, the most successful school science series on TV which was used in around 70 per cent of secondary schools in the UK and in 35 other countries.

In 1990, and in his own words "fat and unfit", Adam bought a pink and yellow mountain bike and began his career with Local Heroes, a series in which he rode around the country investigating dead scientists.

Six of the Local Heroes series were broadcast on BBC TWO, finishing in summer 2000. Other BBC credits to Adam's name include Top Ten Treasures, What The Stuarts Did For Us, What The Victorians Did For Us, What The Romans Did For Us and Tomorrow's World.

In February 2005, Adam Hart Davis returned to BBC TWO with What The Ancients Did For Us - a major series looking at the inventions of past civilizations including the Greeks, the Arabs and the Ancient Britons. Adam is involved with several societies including the Royal Society of Arts, the Institution of Lighting Engineers and even the British Toilet Association!

Amongst other achievements he has received a Medal from the Royal Academy of Engineering for the public promotion of engineering.
Books and DVDs
Clients often ask about purchasing books for giveaways and delegate packs. Below you'll find a selection of products by Adam Hart-Davis. Click the images to view on Amazon's website. For bulk orders, please speak with your Booking Agent.
You may also be interested in...