Johnny Ball
Popular science and mathematics television presenter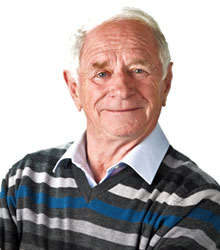 About
Johnny Ball first rose to fame as a comedian in the late 1960s, appearing on Val Doonican and Harry Secomb's TV Shows. He compered ITV's 1967 Christmas Night Spectacular, compered the first Rolling Stones Tour, Dusty Springfield and Seekers tours and a Theatre Tour of South Africa, starred in Sadlers Wells Opera, featured in Playschool for 17 years, wrote Playaway and adult TV comedy before turning to factual information.

In the late 1970s and 80s he became TV's best-loved mathematician, presenting more than 23 solo children's television series about maths and science including the iconic Think of a Number (BBC) and Johnny Ball Reveals All (ITV). He has since produced numerous science-related musicals and lectures regularly on the after dinner speaking circuit.

No-one is better known for making maths not just easy to understand but genuinely fun and fascinating. Johnny's TV shows and videos won 12 awards, including a BAFTA., a New York International Emmy nomination, and the ITVA "Presenter of the Year" Craft Award. In 2012 he was the oldest ever contestant on the BBC's Strictly Come Dancing.

Enthusing on prospects for science and technology, Johnny Ball's keynote addresses include the Oxford Union (twice), RAF Cranwell, I.Mec.E, Unilever, Procter and Gamble, Airbus UK, Dyson, Bae, Rolls Royce, 100 years of the Electron for Sheffield Univs, Chinese Science for a Beijing Exhibition in Manchester, Histories of Shipping & Medical Science, lectures on Einstein, Darwin, Dalton, Priestley and Brunel, and Maths master classes for Southampton, Warwick, Imperial, Lincoln, John Moores Univs, etc. Johnny once made 40 speeches in two weeks! His Voice-Over clients include BBC, BT, National Express, Nat Space Centre, Fiat Punto, One Tel, Innocent Smoothies, Gortex, Chedds and Help Link, etc. He has represented the DFES on social issues - Life Long Learning, BECTA, Learn Direct, Etc.

As an Ambassador for British Engineering, Johnny Ball hosted presentations for National Grid (9 yrs) and all branches of Engineering. At the Tomorrow's World Live Exhibition, he delivered 7 new lectures for Young Engineers and ran the DFES "Future Maths" stand. He wrote, produced and presented "Structures", a highly inter-active CD ROM for the Gatsby Technology Program. Johnny enlivens many educational or corporate events, awards evenings and dinners annually - IET Awards, Plastics Industry dinner, and speaks on Waste Management, Nuclear Energy, Climate Change and all things Educational.

Johnny Ball has three honorary doctorates in Science from Glasgow (1997) Sheffield Hallam (1998) and Salford Universities (2001), is a Fellow of the RSA. Lord Rector of Glasgow University 1994/6; President Nat Assoc for Gifted Children 1991/7; has written 6 books, devised GET SET which puts 400 girls through 26 projects at Imperial College annually, opened the Science Museum's Launch Pad and hosted its 10th Anniversary. Recent education campaigns include Maths for ASDA, McVities and Sainsbury's Booktrust, and for SEEDA and is a Maths, Science and Educational pundit, featuring frequently on radio and TV.
Exclusive Interview
As part of our NMP Live Meets... interview series, Johnny Ball took time out of a busy schedule to sit down with us for an exclusive chat. Watch the video below and find out what he can bring to your event.
You may also be interested in...