Trinny & Susannah
British fashion and make-over experts (What Not to Wear)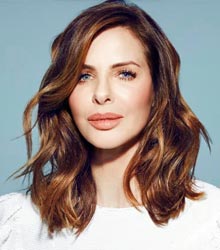 About
Makeover experts Trinny Woodall and Susannah Constantine are best known for the brutally honest fashion and style advice they dispensed in the BBC television show "What Not to Wear".

Their bossy, no-nonsense attitude has seen them strip thousands of women of their ill-fitting or inappropriate outfits in favour of something rather more fabulous. Trinny and Susannah hosted What Not to Wear from 2001 to 2005, then went on to present the Trinny and Susannah Undress... series.

Together they have appeared on many other shows as fashion commentators including coverage of The Royal Wedding of Charles and Camilla. They've written several best-selling books including 'The Body Shape Bible', 'What You Wear Can Change Your Life' and Trinny & Susannah: The Survival Guide'. They also have a weekly column in The Sun.

They originally teamed up in 1994 write Ready to Wear, a weekly style guide for the Daily Telegraph which ran for seven years. They had previously met at a dinner party hosted by Viscount Linley. They later became the co-founders of Ready2shop.com, a dot-com fashion advice business which ceased trading after running out of funding in 2000. They later gained their first chance at working on television when Granada Sky Broadcasting signed them up to host a daytime shopping show, also called Ready to Wear. They published their first fashion advice book called Ready 2 Dress.

They gained recognition for their work on the 'What Not To Wear" show and won a Royal Television Society Award in 2002 in the category of best factual presenter. They have also given different celebrities makeovers which include Jeremy Clarkson, Lesley Joseph, Jo Brand, Sophie Raworth and Ingrid Tarrant.

Over the course of their career, Trimmy Woodall and Susannah Constantine have dressed over 5,000 women.

Trinny lives in London and is married with one daughter and step-son. She began her career in marketing and PR before becoming a fashion journalist.

Susannah worked for years under fashion designer John Galliano. She is married, has three children and lives in Sussex.
Performance
As well as awards hosting and presenting, Trinny & Susannah can present a fashion show with live make overs, audience participation and Q&A. Please contact us for further details.
Books and DVDs
Clients often ask about purchasing books for giveaways and delegate packs. Below you'll find a selection of products by Trinny & Susannah. Click the images to view on Amazon's website. For bulk orders, please speak with your Booking Agent.
Tags for Trinny & Susannah
You may also be interested in...