Anna Richardson
Television presenter, journalist and broadcaster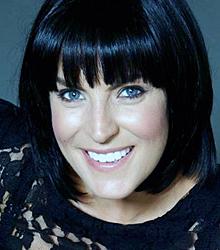 About
An experienced presenter, journalist and broadcaster Anna Richardson started her TV life in the heyday of the Big Breakfast – Channel 4's most successful breakfast show. She was soon spotted for her wit and frank down-to-earth style, and beat some of the best-known names in British TV to present the cult series Love Bites for ITV, a no-holds barred sex and relationships show for teens. The series was so successful it won awards in the UK and America, and Anna herself was nominated for an RTS award.

For the next six years Anna Richardson became a regular on our screens, hosting numerous series for the BBC and ITV, including Love Bites Back, Dream Ticket, Des Res, Maternity Hospital and ITV's flagship film series Big Screen, where she met and interviewed some of the biggest names in Hollywood. After a particularly spunky interview with Arnold Schwarzenegger, Anna hit the headlines by becoming the first UK broadcaster to sue the Governor of California for libel – a notorious case that was successfully settled out of court.

Not content with just appearing in front of camera, Anna soon turned her attention to TV production – developing, writing and producing successful television formats for the BBC, ITV and Channel 4, including No Waste Like Home; Turn Back Your Body Clock; Sally Morgan Star Psychic and Channel 4's hit series You Are What You Eat with Dr.Gillian McKeith, which has subsequently been sold to over 40 countries.

In 2007 Anna Richardson burst back onto our screens and became every girl's best friend when she investigated the world of extreme diets for Channel 4's primetime series Supersize v Superskinny, and lost two stone along the way. Now a regular Channel 4 face, she is the Presenter of award-winning series The Sex Education Show and supporting website Sexperience UK, as well as her own food and lifestyle series My Big Fat Diet Show and undercover surveillance hit show Secret Eaters.

Anna is also a qualified Cognitive Hypnotherapist and member of the National Council for Hypnotherapy (NCH). She is the author of two best-selling diet books - Anna Richardson's Body Blitz and Mind Over Fatter.
You may also be interested in...