Dr Gillian McKeith
Nutritionist and presenter of Channel 4's prime-time series You Are What You Eat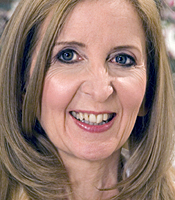 About
Nutritionist Dr. Gillian McKeith is the presenter of the hit Channel 4 prime-time series You Are What You Eat.

Gillian's new book, The Ultimate Health Plan has already raced to no.1 in the UK best sellers list. Her book of the TV series was an incredible success staying at no.1 in the UK bestseller list for 12 consecutive weeks. It was followed by another no.1 bestseller, this time a cookbook to accompany the series, which was in the UK top 5 for 8 months. The best-sellers offer no nonsense nutritional advice by the eccentric but brilliant nutritionist.

In You Are What You Eat, Gillian literally gets to the bottom of some of the country's worst eaters as she revamps their eating habits and changes their lives.

Dr. McKeith has her own range of health food products and as well as her latest book, she has also written The Miracle Superfood: Wild Blue-Green Algae and Dr Gillian McKeith's Living Food for Health.
Books and DVDs
Clients often ask about purchasing books for giveaways and delegate packs. Below you'll find a selection of products by Dr Gillian McKeith. Click the images to view on Amazon's website. For bulk orders, please speak with your Booking Agent.
Tags for Dr Gillian McKeith
You may also be interested in...