Tom Jones
Legendary Welsh singer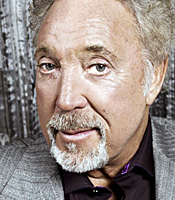 About
One of the most enduring personalities in the music entertainment business. Tom Jones' unique vocal power, ability, and charismatic persona make him one of the most respected, admired and loved performers in modern music.

Tom possesses a wide range of musical expression. He is first and foremost a rocker with a true rhythm and blues soul. In his youth, he was a "Teddy-Boy," a rebel, with not much on his mind but music and sex. His young style and attitude was dominated by the birth of rock 'n' roll. But he had ears and a natural ability that could appreciate and understand the quickly burgeoning styles of popular music. As much time as he spent listening to American and British radio he would spend in the pubs, drinking and singing. He learned he could sing anything, and he learned he could entertain.

Tom Jones has sustained his popularity for more than three decades. His recordings have spanned the spectrum from gospel to pop, rock to standard, rhythm and blues to rock-a-billy, country to contemporary urban sounds. His sensuous peformance style is legendary, while his salient grace is that he never takes his image too seriously.

Tom Jones continues to both deliver and surprise. His voice has matured to perfection, his performance is as driven as it is seasoned, his persona as bold as it is witty and charming.
You may also be interested in...