Timmy Mallett
Colourful eccentric presenter with the Mallet!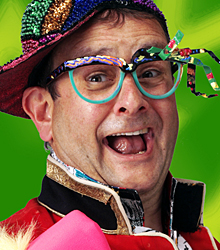 About
Timmy Mallett is best known for his striking visual style, colourful glasses, loud shirts, and giant pink foam mallet, known as "Mallett's Mallet", as well as his "utterly brilliant!" and "blaaah!" catch phrases.

Timmy began presenting on our television screens with the brand new Wide Awake Club in 1984, alongside Michaela Strachan. And in 1985, when TV-am found itself lacking a school holidays programme after Roland Rat moved to the BBC, Timmy was offered the chance to present a spin-off of Wide Awake Club, called Wacaday. The programme was characterised by games such as the now classic "Mallett's Mallet", a word-association game where contestants were hit over the head by his famed mallet for getting answers wrong.

Since then Timmy has hosted many successful shows and regularly makes guest appearances on other programmes where his entertaining opinions, loud looks and good humour make him a popular guest. On a more serious note, he has appeared on the BBC One politics show "This Week" talking about being positive when things get tough.

With West End show producer Andrew Lloyd Webber, Timmy Mallett formed the "band" Bombalurina, along with female vocalists/dancers Dawn Andrews and Annie Dunkley, and released a cover of the single "Itsy Bitsy Teeny Weeny Yellow Polka Dot Bikini". It reached no 1 in the UK charts in August 1990.

What you might now know about Timmy is that he has topped the charts in more than a dozen countries around the world; is an accomplished artist who has had his work exhibited at various art galleries; enjoys cult status among students and young adults, has sat on every seat at Man Utd and City; owns 87 pairs of specs; built a pole house on the great barrier reef; bashed Mrs. Thatcher with the Mallet; gave a break to Mike Myers & Chris Evans among others; debated at the Oxford Union and runs his own successful TV production company.
Performance
In addition to being a great live presenter for festivals and corporate family fun days, Timmy Mallett presents his own interactive "Utterly Brilliant Timmy Mallett show".... suitable for everyone 8-80!
Testimonials
Considering booking Timmy Mallett for your event? You may find the following client testimonials and comments helpful. To enquire further about Timmy Mallett for corporate and private bookings, click here or call us on +44 (0)1372 361 004.
The next thing on my to do list was book the company off site day. I wanted to trump the year before - and many to come - so I decided to make it a silly one and settled on a "back to school" theme sports day. I thought about hiring a celebrity to cheer us on and who better than Timmy Mallet! Timmy took the time to speak to me via conference call prior to the event to ensure that he knew the requirements, he was professional, easy to talk to and very accommodating. Together we came up with the plan that he would be the 'headmaster' and keep us all in line on the day. He agreed to dress in a cape with mortar board and read the scores for us after lunch. Everyone's jaw was on the floor when he walked up to us! I know I am speaking for everyone who grew up in the 80's when I say we all loved the show and he is a huge part of our childhood. Timmy really got into it on the day, he laughed with us, told jokes and made us all feel like naughty children. At the end of the day we had a tie break and played Mallets Mallet for the prize. What a day! I can honestly say that hiring Timmy Mallett was the best decision I could have made. He even stayed behind to sign some autographs and take some pictures with us. What a genuinely lovely guy!
You may also be interested in...