The Three Waiters
The original and most successful singing waiters act of it's kind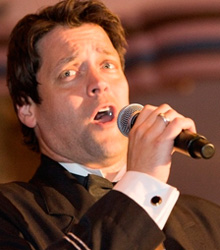 About
Imagine during your next function, one of the drink waiters bursts out a huge operatic note initiating thunderous applause... then promptly returns to his duties.

A short time later, a competitive second waiter decides to join the stage resulting in a singing duel that includes anything from Pavarotti to Dean Martin or Lloyd Webber to Puccini.

But the real fun is only just beginning. To the further surprise of the audience.... a third waiter "gate crashes", and the performance concludes a la "The Three Tenors".

The Three Waiters is a truly unique concept. It involves three talented performers hoaxing and infiltrating your event as "real" waiting staff. But this is not a "wacky waiters" show, and in fact is quite the opposite. The show provides sophisticated, high quality entertainment made up of some of the best performers that opera and music theatre have to offer.

The structure and content of The Three Waiters suits a wide spectrum of audience taste by taking away the seriousness often associated with opera and adding an element of fun, spontaneity and surprise. With repertoire consisting of arias made famous by "The Three Tenors" along with well-known songs from popular musicals, The Three Waiters has proven equally successful to audiences of football players and auto mechanics, as well as the most discerning opera buffs, high-end corporate executives and Heads of State.

Whether a dinner party of twelve guests or a ballroom of two thousand, the structure of the show along with the repertoire and experience of each of the performers allows the act to be easily customized to individual requirements. That's why The Three Waiters have performed for American Express, AT&T, Citibank, Coca-Cola, Goldman Sachs, Hyatt Hotels, McDonalds, NBC TV, Sony, and many more corporate groups.

They are The Three Waiters...or are they?
Testimonials
Thank you for the most wonderful and organised way of entertaining a group of normally very spoiled and jaded Hoteliers!! I think we received more compliments about your involvement than anything else at the conference!
I could not believe the heavenly voices that emerged from those three handsome personas. My goodness: unbelievable! I cannot wait to work with you again so I can just sit back and listen. You three aremappealing to the eyes and the ears and a feast for all the senses
We have had several Doctors asking how we are ever going to top your act at next year's dinner and at the moment I have no answer!
Although we had the Marquess of Salisbury and Barry Cryer speaking at the event, the most memorable thing for our guests were the waiters as they were unexpected and all had such amazing voices
The Three Waiters were brilliant. Nothing but ecstatic praise. Thank you so much.
The best act I've seen by far for ages.
You were superb, excellent, first class, fantastic, amazing; You lifted the wedding breakfast to brilliant heights. Your professionalism and performance was second to none.
They were such a hit! Our guests absolutely loved them and we have had many calls asking who they were and wanting more information.
Tags for The Three Waiters
You may also be interested in...