Judge The Poet
Spontaneous poet and unique entertainer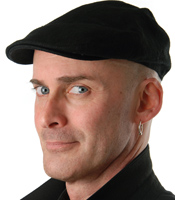 About
For more than two decades, Judge The Poet has created magical memories for audiences across the globe. His unique talents have been sought and enjoyed by Nelson Mandela, Queen Elizabeth II, Prince Charles, Bjorn Borg and many, many more. Judge has performed at events, festivals and venues around the UK and across Europe, America, Australasia, Asia and the Middle East.

After completing a university degree in English Literature, Judge set off to be a self-styled "Ambassador for Poetry" around the world, saying: "Poetry should be for everyone, not just professors and librarians!" The show he has created is absolutely unique. He takes suggestions from the audience - any words, ideas or concepts they may wish. He then IMMEDIATELY recites for them a rhyming, enjoyable and understandable poem that links all that they said. The poems can be funny or serious, depending on the mood and wishes of the audience. Whatever happens, it is sure to be highly memorable and talked about for a long time to come!

In the UK, Judge has performed at Buckingham Palace, St. James Palace, Kensington Palace, Chequers, Wembley Stadium, Earls Court, The Ritz, The Dorchester, The Royal Shakespeare Theatre, Glastonbury Festival and countless other venues. He has performed for Queen Elizabeth II (three times), Prince Charles and many celebrities. He has been featured on prime-time TV and Radio. These appearances include BBC1 TV's "The One Show" where he won their "Poem Idol" feature (defeating Robert Mitchell and Elvis McGonagall, former poetry slam world champion) and BBC Radio 5live.

Internationally, Judge has appeared at events, venues and festivals in the USA, Canada, Australia, New Zealand, Barbados, Hong Kong and Dubai, among other countries. These performances include The Peninsular in Hong Kong, Madinat Jumeirah in Dubai, The Auckland Sheraton in New Zealand, Holders Festival in Barbados and South-By-South-West Festival in the USA.
Judge has also worked as a poet-in-residence in luxury venues and hotels across Spain, Indonesia, Malaysia and Oman. He has been featured on TV and Radio in many countries.

Judge The Poet supports several charities. He regularly performs at Great Ormond Street Hospital and University College of London Hospital for the charity Spread A Smile.
Testimonials
I wish we'd had Judge here on our first show! And I wish we'd kept him here!
I do not think the event at Chequers would have been such a phenomenal success had it not have been for Judge's fantastic contribution, admired and appreciated by all. I have been to many events and never have I seen a performance like it. Judge was very impressive and left a lasting impression on all of our guests.
Judge made our Summer Ball so special! We have had many great comments and our VIP was really impressed. We will definitely be recommending Judge and no doubt be booking him for future events!
You may also be interested in...