The Overtones
The UK's hottest, platinum-selling vocal harmony group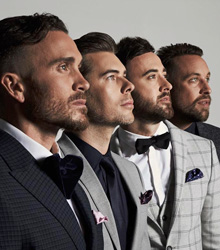 About
After years of grinding out a living while chasing their dreams of becoming successful singers, The Overtones' perseverance was richly rewarded when they landed a recording deal with Warner Music Entertainment in the summer of 2010. Released that same year, their debut album 'Good Ol' Fashioned Love' was forecast to sell a respectable but hardly ground-breaking 20,000 copies. Almost two years later, the album exceeded 500,000 sales after peaking at number four on the album chart. 2012 saw them play to over 250,000 people at the Queen's Diamond Jubilee celebration and to another large audience at an Olympics show in Hyde Park.

In October 2012 they released their follow up album, Higher. Featuring a selection of their own self-written material, the album finds the boys pushing the boundaries of their music with a collection that blends a variety of contemporary pop influences into the uplifting, soulful sounds of the defining male vocal groups of the 50s and 60s. It captures the essence of everything people loved about The Overtones the first time around, but it also finds the group brimming with confidence as they explore new territory.

The Overtones are Lochie Chapman, Mark Franks, Darren Everest and Mike Crawshaw.
Testimonials
Our boys are totally eargasmic!
We are so lovin' the sound!
You've got to love The Overtones.
Smooth, timeless vocals... They're taking off in style.
Poised to reach another level.
The performances are flawless.
You may also be interested in...