Richard and Adam
Welsh classical opera singers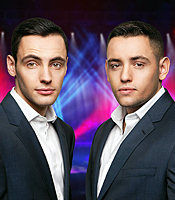 About
Brothers Richard & Adam Johnson, are best known for rising to fame as the operatic finalists on the series of Britain's biggest TV entertainment show. The duo grew up worlds away from fame in the small Welsh town of Holywell. Inspired by their grandmother who had a particular penchant for classical and opera, Richard & Adam fell in love with music. Listening to her records of the likes of Caruso, Mario Lanza and The Three Tenors inspired Richard & Adam to develop their singing talents.

Unable to afford formal singing lessons, Richard & Adam researched tirelessly online, studying all the great singers through Youtube. During their research, they came across a clip from Pavarotti teaching people how to sing, how to breathe, how to project. They came to think of it as the ultimate masterclass, and studied it endlessly.

Richard & Adam started to sing at school, always amazed, and encouraged, by the positive reaction it generated and moved on to singing at the Birkenhead Operatic, at which they excelled sufficiently enough to be entered into a local talent competition. They won, and the offers began to pour in, small-scale offers at pubs, hotels, bars which proved an invaluable opportunity to put all they had learned from Pavarotti into practice. After school, they worked in the coffee shop their parents ran in the Holywell area - and spent nights playing pubs and clubs. Before long, they were invited to sing on P&O Cruises, with live bands and a full orchestra.

In a bid to get their music out to a bigger audience, Richard and Adam made demo tapes and sent them out without any clue of what might happen. Once Britain's Got Talent came to their attention, Richard & Adam realised it was their biggest opportunity yet to take their music to a national level overnight. They auditioned, and were quickly invited onto the show. It was here their collective talent spoke for itself, two ordinary young men with an extraordinary ability that captured the nation's hearts, all the way to the final.

Since the show the boys have had an extremely successful career firstly heading to number 1 for four consecutive weeks breaking UK records and then followed by a sell out UK tour. Richard and Adam have had continued success with a number 5 charting album 'At The Movies' competing with internationally acclaimed artists such as Dolly Parton.
Books and DVDs
Clients often ask about purchasing books for giveaways and delegate packs. Below you'll find a selection of products by Richard and Adam. Click the images to view on Amazon's website. For bulk orders, please speak with your Booking Agent.
Tags for Richard and Adam
You may also be interested in...