Paul Potts
British tenor. Winner of the first ever Britain's Got Talent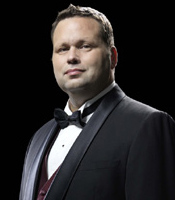 About
Following Britain's Got Talent, Paul's extraordinary appeal has seen him take part in festivals and notable gigs (such as the Sydney Opera House and the Royal Albert Hall) and meet some extremely impressive people. He sang for the Queen at the 'Royal Variety Performance' and Simon Cowell took him to meet the former Prime Minister Gordon Brown soon after his win. Paul has also performed twice for the person that introduced him to opera when he was 16: Jose Carreras.

Paul was overwhelmed when Jose himself told him in his 2009 performance at the Jose Carreras Gala for Leukemia Research in Leipzig that Paul had an "incredible instrument and had made great progress" since his initial Britain's Got Talent audition. He also released his much anticipated first album One Chance, a critical and commercial success, debuting at number one in 15 countries.

The phenomenal worldwide success of the album led him on an extended tour with more than 100 sell out shows around the globe. He has continued to forge full steam ahead, releasing his second album Passione in 2009 to much excitement. He has travelled around the world five times, taking him to countries from Australia to Peru to Canada to Switzerland to Hungary and has now sold in excess of four million albums worldwide.

Paul's third album, Cinema Paradiso, was a movie-themed anthology inspired by his own love of films. Paul brought great passion to all of the tracks which showcased the depth of his talent. He worked with Hollywood movie music producer Simon Franglen, who has excellent experience, having worked on the soundtracks of films such as Avatar, Titanic and Moulin Rouge.
You may also be interested in...