Sue Cook
One of the UK's most experienced broadcasters (Crimewatch, Holiday)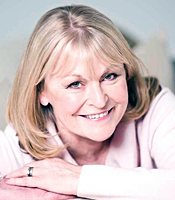 About
Sue Cook is one of the UK's most experienced and popular broadcasters. Her broadcasting career began in 1974 with the arrival of commercial radio. She joined Capital Radio before the station went to air and quickly found herself presenting and producing shows from rock music to popular current affairs, making commercials - even singing some of the early jingles.

From there, Sue was headhunted by the BBC where she presented a range of programmes and documentaries for Radios 1, 2 and 4; in particular Radio 4′s You and Yours which she presented for almost five years, also on many occasions deputising for Jimmy Young on Radio 2.

In 1978 Sue Cook moved across to television, since when she's been a familiar face on many popular BBC shows – almost all of them "live". From 1976 until 1982, Sue presented the now legendary evening current affairs show Nationwide alongside Frank Bough, Sue Lawley, Hugh Scully, John Stapleton and Bob Wellings.

In 1983 when breakfast television came to the nation Sue regularly shared the red Breakfast Time sofa with Frank Bough, Selina Scott and Debbie Rix. In November 1982, and every November for the next thirteen years, Sue co-hosted the BBC's annual Children in Need appeal night with Terry Wogan.

In the summer of 1984 Sue Cook and Nick Ross launched Crimewatch UK, which she presented until 1996. Other popular shows Sue has hosted include the well respected Out of Court, Daytime Live, Holiday, Having a Baby, Omnibus at The Proms, Chelsea Flower Show and Collectors Lot.

Her interviewees have encompassed politicians and celebrities ranging from Arthur Scargill to Archbishop Tutu and from James Stewart to Michael Caine. To radio listeners she's been a familiar voice since the 1970s on many series and individual programmes - most recently from 1998 to 2006 she presented the popular weekly programme Making History for Radio 4.

An honours graduate in Psychology at Leicester University, the university awarded her an honorary D. Litt in 1997 in recognition of her contribution to British broadcasting.

Sue Cook's first novel On Dangerous Ground was published by Hodder Headline in paperback in November 2006 and her second, Force of Nature, was also published by Hodder Headline in 2009. She is currently adapting On Dangerous Ground for a film of the same title and writing her third novel.

Sue Cook is an Ambassador for the Prince's Trust and a patron of the Rainbow Trust, the Children's Liver Disease Foundation and the British Wireless Fund for the Blind.

Sue lives in North London with her husband, film director Ian Sharp.
You may also be interested in...