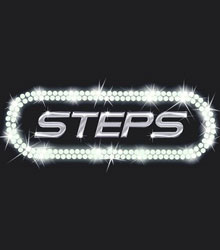 About
Formed in 1997, Steps were the Pop Sensation of the Millennium. In total the five-piece have sold 20 million records, and achieved 14 consecutive Top 5 singles. They have won countless awards and had sell out tour after sell out tour all over the globe. They were the second most successful British pop group ever (behind the Beatles).

The group is made up of members Faye Tozer, Ian "H" Watkins, Lisa Scott-Lee, Lee Latchford Evans and Claire Richards. After an initial success with their first single "5,6,7,8", the group continued to establish themselves with the release of their third single 'One For Sorrow' which peaked at No.2 in the chart, marking the beginning of a chain of 14 consecutive Top 5 hits on the UK singles chart. This, along with the success of their debut album 'Step One' led onto a run of 50 weeks in the Top 20 alone.

The next single release provided Steps with their signature song and biggest single seller to date. The cover version of the Bee Gees "Tragedy" was paired with an original track "Heartbeat" and released in November of 1998. The single sold over a million copies and occupied the chart for 30 consecutive weeks, along with signature dance-moves that became a loveable trend between fans.

Having established a huge fan-base of teens and adults alike, Steps quickly became a household name during the late 90s. Steps were huge, and continued to grow, leaving a trail of adoring fans behind them with every dance move they made.

That Summer Steps released the first single of an all-new album, "Love's Got a Hold on My Heart' before heading off to support Britney Spears on her 1999 'Baby One More Time Tour'. 'Step One' having spent 5 weeks in the US album chart was followed by Album "Steptacular". The album charted at yet another No.1 and became their second UK million selling album.

The group's next two singles continued to be a storming success, with "Say You'll Be Mine/Better The Devil You Know" and "Deeper Shade of Blue" continuing their top 5 run of the UK Chart. Having been regular guests on TV Show Smash Hits throughout their career, the group then went on to present the Smash Hits Poll Winners Party to round up yet another successful 12 months together.

After being awarded a second BRIT Award for Best Selling Live Act of the year in 2000, "Stomp" became their second and final number one single. In 2001 the Group decided to part ways, however ten years later, they have reunited in 2011 and the love for Steps is still as big as ever.

Their 4 part Sky Documentary "Steps Reunion" was hugely successful with high viewing figures. Their Ultimate Collection flew straight to number one in the official album charts and the tickets to their National Tour sold over 80,000 before they even went on sale.