Stephen Venables
One of the best-known mountaineers of his generation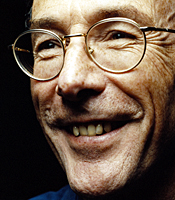 About
Stephen Venables is one of the best-known mountaineers of his generation and was the first Briton to climb Everest without supplementary oxygen. He is also a highly successful photographer, public speaker and writer.

His first book Painted Mountains, published by Hodder & Stoughton in 1986, won the prestigious Boardman Tasker Prize for Mountain Literature. The authoritative High magazine hailed it as 'the most promising book by a young writer about the Himalaya for very many years... its lightheartedness is a pleasant change from the inflationary levels of much expedition literature'. Sir Chris Bonington, the world-renowned climber who was later to help save Venables's life on Panch Chuli, called it 'an absolute delight'.

Stephen Venables's name is associated above all with Everest. In 1988 he joined a four-man American-Canadian-British team to pioneer a new route up the Kangshung Face - the biggest wall on the world's highest peak. Never before had such a small team tackled such a daunting objective on Everest, without Sherpa support or supplementary oxygen. Seven weeks after first setting foot on the face, Stephen Venables reached the summit, alone and without oxygen. Caught out by darkness, he was then forced to spend the night in the open, without food, drink, or shelter, at 28,000 feet above sea level. Only in the morning could he rejoin his companions (who had not quite reached the summit) to make a desperate retreat down the mountain.

As the first Briton to reach the summit of Everest without oxygen equipment, Venables received huge publicity in his own country. However, the epic nature of the climb also attracted international acclaim and the world's most famous Himalayan climber, Reinhold Messner, commented, 'in terms of pure adventure this was the finest ascent of Everest.'

Stephen Venables has an MA in English Language and Literature from Oxford University, where his tutors included John Bayley and Christopher Tolkien. His own writing is informed by a love of literature and by his other wide interests, particularly music and gardening, which are his great passions when he is at home between expeditions. Above all, as his books and countless public lectures have demonstrated, he knows how to tell a good story.
Video
Click below to watch video footage of Stephen Venables. To enquire further about Stephen Venables for corporate and private bookings, please click here or call us on +44 (0)1372 361 004.
Books and DVDs
Below you'll find products by Stephen Venables which may be available for purchase. Click the image to view on Amazon's website. Clients often like to purchase books and other merchandise as autographed give-aways at events where Stephen Venables is appearing. For bulk purchases, please speak with the Booking Agent handling your event.
Tags for Stephen Venables
You may also be interested in...