Spanner In The Works
The perfect oddball alternative to any other form of interactive entertainment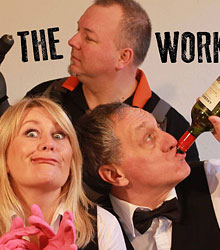 About
If you're entertaining guests for a sit down dinner, then Spanner in The Works is the perfect alternative! The performers infiltrate and work alongside genuine waiters and waitresses, giving your guests an unforgettable evening of unique comedy and music.

From pre-dinner drinks, through to coffee, your unsuspecting guests will witness a whole host of amusing and unusual capers. As the atmosphere builds, with confidence, the guests begin to interact with the spoof Spanner staff. Suddenly the maintenance man is under a table, a bandaged waiter is serenading guests with his guitar and the wine waiter finally collapses, even the most unobservant are left in no doubt that they have been well and truly Spannered!

HOW SPANNER WORKS
The act begins subtly, with the waiters collecting glasses, emptying ashtrays,etc. whilst their waitress serves spoof canapés of slices of carrot, banana, a jelly baby and a hula hoop on a stick. (Believe it or not, guests quite happily nibble away, oblivious to what they are actually eating).

The object at this point is to arouse a few guests' suspicions, but not enough for their cover to be blown. If requested, the wine waiter will call guests through for Dinner. As guests enter the dining room, if required, Spanner's wonky background CD is quietly playing easy listening sounds and cocktail jazz. At this point in the proceedings, for many guests, nothing will yet seem amiss.

The Spanner team will help show guests to their seats. This familiarises them with the guests and any requests, such as "Can I have a glass of water" are played straight. They then help place serviettes on laps, pour wine and serve bread rolls, all in a subtly questionable manner. The starter is then served by the genuine venue staff and, whilst it is being eaten, the Spanner staff remain in the room either stood against the wall looking obviously bored or wandering around checking on people's progress and making the odd comment.

Spanner's strange behaviour becomes more noticeable, for example, the waitress will start searching on the floor for her supposedly missing contact lens; generally guests join in the hunt.

At the end of starter the more astute guests will have begun to realise that all is not as it seems. The team becomes more obvious with, amongst other things, plates stacked in an unusual way, knives and forks slipped into pockets, unusual wine offered.

Enter the maintenance man complete with toolbox and stepladders. It's at this point that the gags become a little more obvious, leaving guests in no doubt that they have been set up. Guests begin to point fingers at the organisers, discuss what they have witnessed, and start watching out for what may happen next.

Throughout main course guests are entertained by a non-stop stream of one-liners, ridiculous props, impromptu head massages, fashion tips, DIY, whilst the drunken waiter tries his hand at cartooning the guests, the maintenance man seizes the opportunity to astound each table with rubbish magic tricks and another waiter serenades the diners with his acoustic guitar.

At the end of coffee an announcement is made to exonerate the venue and their staff from the unusual service, followed, where possible, with the sing-a-long classic 'Delilah' performed in Spanner's inimitable fashion.
Testimonials
The funniest thing since me!
I just wanted to say a HUGE big thank you. What a rip, roaring success! People are still laughing and talking about your antics and everyone, and I do mean everyone, thoroughly enjoyed themselves. As I said to you, I've been waiting for years to use Spanner and I can honestly say that you were well worth the wait!
What can I say... thank you so much for such a fun and chaotic evening. Everyone had a fabulous time and have been talking about your act ever since.You were all fantastic and really helped to bring everyone together it gave us all something to talk and laugh about and an evening we won't forget. Absolute class! Thanks again.
Spanner In The Works - Absolutely fantastic! Comments of 'the best party ever' spring to mind.
Tags for Spanner In The Works
You may also be interested in...