Simon May
Composer of the EastEnder's theme tune and Ivor Novello award winner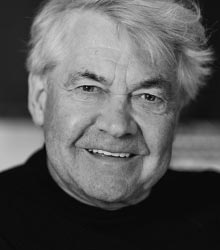 About
Simon May is best-known as the composer of the EastEnders theme tune as well as Howard's Way, Castaway, Pet Rescue, Holiday Programme, City Hospital and many other themes which are familiar to British TV viewers. He is also very popular on the corporate team building, motivational and after dinner speaking circuit.

EastEnders was nominated but failed to win the coveted Ivor Novello award for best TV theme of the year in 1985. However a year later Simon used that disappointment to write and produce a song for Nick Berry which was featured on EastEnders and achieved the No.1 position in the UK charts. 'Every Loser Wins' sold over a million copies and received the Ivor Novello award for best selling single of 1986. Turning failure into success is an important part of Simon May's credo.

Writing the theme for Eldorado and heading a commercially unsuccessful national tour with the Simon May Orchestra provide a humorous but realistic insight into the highs and lows of a dangerous profession. The lessons learnt have many parallels between managing and conducting an Orchestra and the skills of corporate thinking and management.
Speech Topics
After Dinner Speaking
In his after dinner speeches at corporate and social functions, Simon May talks about his career, the stories and people behind his hit songs and themes and his passionate belief that everything is possible.

In his corporate presentations, Simon motivates his audience by taking a light-hearted look at his successes and failures and reinforces the values of persistence and determination. The message of Every Loser Wins and positive thinking is developed further. "Being true to yourself whilst listening to others is an obvious truism, but whenever you stop doing either you are much more likely to fail. Good old fashioned values like honesty, perseverance, teamwork and preparation will always be rewarded even if it takes time."


Team Building Workshop - "Write A Hit Song With EastEnders Composer Simon May"
Away from the studio, Simon May has developed a unique, entertaining and highly engaging team-building workshop for companies and organisations.

Taking delegates on an unforgettable journey to write their very own hit song – or perhaps even create a company anthem – the workshop requires absolutely no musical knowledge, background or skill. Together with co-producer John Brant, Simon May will introduce participants to the basic elements of song-writing, composition and creative writing.

With emphasis on problem-solving in a team environment, improvisation, creative thinking and overcoming inhibitions, delegates are divided into groups that will work together to create the various elements of a chart-topping hit. In-jokes always provide great amusement and stimulus for the lyrics, whilst more serious themes about the department, product or brand can be incorporated. The lyrics can take on any theme and delegates are encouraged to steer the direction. Once agreed by the group, the lyrics are recorded to backing track by the groups and at the end of the day the team will receive a copy of the their very own song on CD – no doubt finding it's way to the conference dinner or office party!

The half-day workshop runs for approx 4 hours, with breaks, and is suitable for up to 50 delegates in any one session.
You may also be interested in...