Silvana Franco
Inspirational and innovative food writer and stylist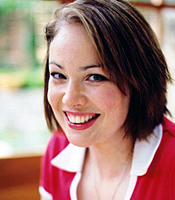 About
Silvana Franco was recently seen co-hosting BBC2's food series, The Best. An inspirational and innovative food writer and stylist with over a decade's experience working in the food media, she has a lot to say about food. And her charming but forthright approach marks her out as different from the rest.

Born and raised in Derby to a large Italian family, she was used to great home -cooked food throughout her childhood. She decided to train as a chef at the High Peak College in Buxton and then went on to finish her studies with a degree in Home Economy from the Southbank University.

It was during her work placement at college that she found herself at BBC Worldwide and it was here she began her career writing for BBC Vegetarian Good Food. She soon progressed to senior writer on its sister paper, BBC Good Food and did a stint on their youth magazine Girltalk. In all, she spent five years with the company - and as editor of the tv pages she began to forge links with the independent and BBC food producers.

She then worked as Food Editor for the M&S Magazine before changing tack and moving behind the scenes in the world of television as a food stylist and writer on Can't Cook Won't Cook, Ainsley's Meals in Minutes, Ainsley's Big Cook Out, Gourmet Express and Friends For Dinner. Her association with Ainsley continued in New York, where she whipped the Manhattan food team into shape for his NBC series. However, Silvana's striking and engaging personality soon attracted producers and she started to appear on screen in her own right, working alongside Ainsley in Gourmet Express 2 as his side-kick and featuring on BBC2's new series Saturday Kitchen with help and advice across a range of food issues. She then co-starred in The Best for BBC2, which was accompanied by a book of the series. Her success has led to two 15 part series for GMTV on Christmas cooking and summer cooking (December 2002 and June/August 2003).

As a free lance stylist and consultant she branched out into corporates and commercials and her clients include Lea and Perrin, M&S and Sainsbury's. She is the author of a number of cookery books, including The Really Useful Vegetarian Student Cookbook and The Student Cookbook (Merehurst 1994), Salsas and Ketchups (Quarto 1995) and Salsas, Relishes and Dips (Lorenz Books, 1997). In 1998 she wrote Can't Cook Won't Cook Leaves Home for BBC Books and in 2001 and 2002 she published two books Pizza and Pasta for Ryland Peters & Small. Her new book, for Quadrille is called Family and will be released Autumn 2003.

Three years ago she joined forces with two of her old Worldwide colleagues, Angela Boggiano and Jenny White. They set up Fork, a food media company, to serve food titles across magazines, television and live events and to bring their philosophy of fresh ingredients, strong flavours and modern lifestyle to their audience. Grill Power, their weekly page in The Sun reached an audience of three and a half million and delivered advice and recipes to readers with cookery problems.
Books and DVDs
Clients often ask about purchasing books for giveaways and delegate packs. Below you'll find a selection of products by Silvana Franco. Click the images to view on Amazon's website. For bulk orders, please speak with your Booking Agent.
You may also be interested in...