Sean Collins
Award-winning UK-based Canadian comedian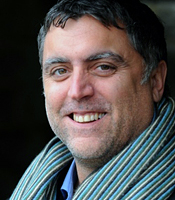 About
Sean Collins honed his unique storytelling style over 20 years in the entertainment business. In 2000, his hard work and determination led to his receiving two prestigious Canadian Comedy Award nominations for 'Best Male Stand Up' & for his half-hour 'Comic's Comedy Special' on CBC.

In 2002, CTV gave Sean his first hour-long television special as part of their 'Comedy Now' series and, building on this momentum, he performed a gala set at the Just For Laughs Festival, Montreal in 2003.

With the desire to play to a more universal audience, Sean left Canada for the UK and, within the ensuing years that Sean has resided in Britain, he has written and performed 3 highly successful Edinburgh Festival shows, receiving rare five-star reviews and one of only a few Best of Fest accolades. Now a headline act firmly established on the UK circuit, Sean has several television credits to his name, including The World Stands Up Special on Comedy Central, The Comedy Store Television Show on Paramount for 2005, 2006 and 2008, and 2010, the second series of Michael McIntyre's Comedy Roadshow on BBC1.

Sean Collins' first tour in 2011 "Still on the Road show" was performed with fellow comic Mike Gunn. Such was its success that the Comedy Store Management was behind the tour for 2012 and 2013. Having won the Guide Award for Best Comedy and performed at the 2010 ceremony, Sean Collins walked away with the trophy again! The Canadian-born comedian, who now calls Gosport home, has had another great year, building on the successes of 2010.

He continues to Compere at Jokes Bay Comedy Club at the Alverbank Hotel in Gosport and he now has an annual tour with fellow Michael McIntyre's Comedy Roadshow guest Mike Gunn. The pair began touring together at the start of this year, performing both separately and as a double act in each show.

With each new tour they plan to increase the number of dates and the size of the venues. They hit the road again in February, this time with the backing of The Comedy Store. Before that Sean will appear on Sky TV on Soccer AM and the Stand-Up Sit Down radio show.

Sean Collins can tailor his act to perform completely clean and without any swearing if required, and is happy to tailor material/write industry relevant gags if requested. This makes him ideal for hosting corporate award ceremonies and presenting his after dinner comedy set.
Video
Click below to watch video footage of Sean Collins. To enquire further about Sean Collins for corporate and private bookings, please click here or call us on +44 (0)1372 361 004.
Testimonials
Considering booking Sean Collins for your event? You may find the following client testimonials and comments helpful. To enquire further about Sean Collins for corporate and private bookings, click here or call us on +44 (0)1372 361 004.
Sean Collins performed at the Xerox congress in Lisbon and he exceeded all the objectives set, which was to entertain the 150 Xerox Partners after dinner. Sean really did his research and had a very professional persona, included local observations and good knowledge of Xerox. Very tough audience to entertain – did a brilliant job. 100% recommendation for a great event. I received Great feedback from the audience, everyone loved the set. Probably the best compliment is that a number of the Directors asked me for his details.
Sean Collins had the room completely entertained with his very witty observational humour and interacted with the audience fantastically. He had clearly done his research well, and his obvious comic prowess ensured that he adapted his set to meet the expectations of the room. I have had nothing but excellent feedback from many of the guests that night, and as the Organiser of the event I would have no qualms about recommending Sean in the future.
From the first minute, he had the audience in his pocket. I have done this event for three years, and never seen an act control this crowd like Sean did – he even got a few rounds of applause after his jokes. I would not hesitate in recommending Sean Collins for any corporate gig, with any client, in any industry.
The feedback both from the client and the guest at the event were very complimentary about Sean Collins and thought he was fabulous. Equally from my point of view Sean was brilliant to work with and the guests loved the fact that not only did he entertain them after dinner but then stayed in the bar and chatted with both staff and delegates which was much appreciated. Please pass on our thanks to him from both myself and my Director.
You may also be interested in...