Jarred Christmas
Stand up comedian and Chortle comedy award winner for Best Compere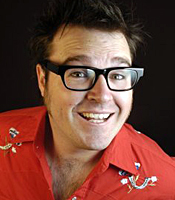 About
Jarred Christmas is a unique comedy performer. Mixing storytelling with gags, Jarred is one of the sharpest improvisers on the comedy circuit. Whether you are looking for someone to host your event, or present your awards, an improv show tailored to your event, or a straight stand-up set, Jarred is your ideal choice.

Jarred was nominated for an industry award for Best Compere in 2007 and for Chortle Best Compere in 2008, before going on to win Best Compere at the Chortle Awards 2010, and a Lovie Award in 2011.

Lively, friendly and up-beat, Jarred Christmas has featured on prestigious comedy shows such as Mock The Week, The World Stands Up, The Comedy Store, Argumental (on Dave), and Edinburgh And Beyond. He has also starred in the hilarious Pot Noodle advertisements, and you might recognise his voice from the Fosters commercials.

Jarred has been a judge on ITV 1's Sing If You Can, and performed Madonna's Hung Up for Let's Dance For Comic Relief 2011 (complete with pink leotard!). He has also starred in the BBC 2 sitcom, The Persuasionists, which was first aired in January 2010, and been a co-host on The Rhod Gilbert Show.

Full of passion and charisma Jarred Christmas' performances take the audience on a hilarious thrill ride of laughs with an edge of anger that manifests itself in his incredible rants against the small things in our lives. His confidence leaves the audience secure in the knowledge that they are in very capable hands. His material is strong and distinctive, drawn from life experience and random happenings.

Whatever the occasion, whatever the situation, whatever the company Jarred Christmas has something for you and its all wrapped up in funny!
Testimonials
It went extremely well with Jarred Christmas... I've received positive feedback from sponsors and guests outlining how much they enjoyed his performance. He was also very good at smoothing over any awkwardness and silences and I don't think the night would have been anywhere near as good [without him]. From a personal point of view he was great fun to work with too!
We were thrilled to have Jarred Christmas compere the inaugural SPARKies awards during Bath Digital Festival. He was the perfect fit for our crowd and the night went extremely well - totally professional, a pleasure to meet him - what a nice guy! Please pass our thanks on to [him].
Tags for Jarred Christmas
You may also be interested in...