Sarah Brightman
Multi-platinum Broadway singer and former wife of Lord Andrew Lloyd Webber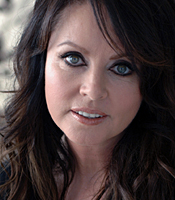 About
Everything about Sarah Brightman is multi-dimensional. Her penchant for fusing musical genres. Her multi-faceted voice. Her contrasting personas. Is it any wonder then that the life and career of this multi-platinum artist is equally colorful and intriguing?

It has been over 25 years since Sarah Brightman released her first professional recording. In the two and a half decades that she has been performing, Sarah has created a stupendous body of work, unparalleled in either diversity or distinction.

Very often, fans of Sarah's latest works are surprised to learn of her illustrious past in Andrew Lloyd Webber productions on Broadway and the West End. Conversely, those who remember her landmark role in Phantom of the Opera find themselves marveling at the exciting direction that her career has taken in the decade since her departure from musical theatre. Hardcore Sarah fans, no doubt, are well aware that her singing career began with chart-topping success in the disco era, with a dancing career that extended all the way back to her childhood.
You may also be interested in...