Saira Khan
Businesswoman and former series one star / runner-up of The Apprentice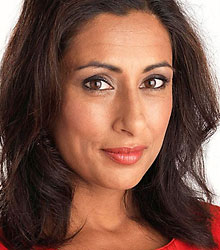 About
Saira Khan shot to fame in the first series of the smash hit BBC TV Series "The Apprentice" and has since taken the UK by storm. She is a regular face on BBC television and presented the hit children's show Beat the Boss. She has been involved in high profile TV shows like Celebrity MasterChef, Celebrity Mastermind and Children in Need's Around the World in 80 Days.

Saira is currently presenting a new CBBC's business show called "Trade your way to the USA" and her documentaries for BBC2 called "Adopting Abroad, Saira's Story" was shown to great national reviews in 2011. She is Managing Director of her own company - producing a luxury range of skincare products and has written a self help book called PUSH for success published by Random House. Saira Khan is an experienced and popular motivational speaker.
Speech Topics
Saira Khan is a regular corporate speaker on business start up, women in business, British Muslim integration, self development and sales training and her adoption journey. However, the most popular subject Saira gets asked to talk about is her time and experience on "The Apprentice". As a finalist of the first series she is respected for her "Can Do" attitude and her exceptional sales skills. She gave inspiration to every woman watching when she was asked about how she felt as the only female left in the competition, she answered, "I am equal to any man out there".

Saira Khan's straight talking, no nonsense approach makes her an energetic and captivating speaker. Her business insight comes from starting her own business rather than text books or theories. A born entrepreneur she honed her skills by working in various Blue Chip industries and in different roles ranging from a sales Exec to a Sales Director. She has worked for Burton's Biscuits, McVities and KP, Workthing.com and Yell. She has sold everything from Biscuits to advertising.

Saira has taken part in numerous corporate, public speaking engagements and high profile events with leading organisations such as Business Link, Shell, Marriot Hotels, Save the Children, RHM Foods, West London Business Development Agency, London School of Economics, Euro Star, The Marriott to name but a few.

Saira Khan has been invited by the Director General of the BBC Mark Thompson to speak to a senior BBC leadership event; by Ian Duncan Smith to present an Award at his Social Cohesion event; by the CEO of Women in Film and Television to present at their Awards ceremony; by Mother and Baby to co-host their awards; by Mama and Papa's to MC their Midwife of the Year event and by the Dutch public broadcasting TV to be their MC for the European Diversity Show.
Books and DVDs
Below you'll find products by Saira Khan which may be available for purchase. Click the image to view on Amazon's website. Clients often like to purchase books and other merchandise as autographed give-aways at events where Saira Khan is appearing. For bulk purchases, please speak with the Booking Agent handling your event.
You may also be interested in...