Michelle Dewberry
First female and youngest winner of The Apprentice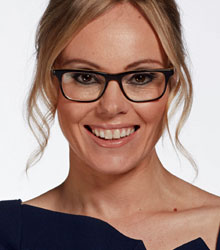 About
Michelle Dewberry is a broadcaster and businesswoman who is known for her frank, passionate and down-to- earth attitude. A regular media commentator, she also presents 'The Pledge', Sky News' popular weekly debate show.

Michelle shot to fame in 2006, as the series 2 winner of BBC2's hit entrepreneurial reality show 'The Apprentice', beating 14,000 other applicants.

Her sharp business brain and ability to cut through the hype and get to the core issue won her not only the title but the admiration of the nation and a place in Sir Alan Sugar's business empire. Sir Alan summed her up when he called her "hard working, very focused, organised, committed" and acknowledged she has "worked her way up to achieve great things". Michelle also captivated the media and became known as the "silent assassin".

Growing up in Hull, Michelle overcame significant adversity to show a flair for business at a young age. She excelled in the technology industry and achieved an impressive six-figure salary aged 22. She has a strong track record of consulting at Blue Chip organisations, helping them transform using technology.

Prior to competing in The Apprentice, Michelle was a self employed consultant working in the City of London with an impressive client list. Her decision to apply for The Apprentice was motivated by her strong desire to develop her business experience under the aegis of one of the country's most successful businessmen.

Always ready to drive and accept a new challenge, she has created every one of her opportunities by forward thinking and self motivation.

Despite leaving school with only two GCSEs, Michelle Dewberry soon demonstrated her rare business potential. Declining to follow the conventional further education route, she recognised the value of hands on experience and opted instead for a YTS programme.

Then aged 18, she took a major employer by storm after cold calling them and requesting a job as a manager. She was offered a junior post in the IT department but swiftly engineered her progress through the ranks until, by the age of 21, she was managing the biggest account the company held.

Michelle Dewberry simultaneously funded herself through night school to gain various professional qualifications to underpin her fast growing career. A desire to increase her experiences saw her move around the UK and then to London, after she was headhunted by Tiscali to manage their offshore transitions.

Recognising her strengths in business transformation, Michelle branched out to work as a freelance consultant, managing complex business process outsourcing and transformation programmes.

After working with Sir Alan Sugar for a year, Michelle Dewberry's entrepreneurial flair was strengthened and she left to progress her own ventures.

Michelle's book, Anything is Possible, was published in 2007 and reveals the painful and harrowing difficulties she had to face, and provides a clear insight into how she has succeeded, not just in winning the intense competition of The Apprentice but in so many other aspects of her life. Her message will resonate to all those who hope for a better life.

Today, Michelle has multiple business interests, including IT recruitment and she works hard for the Charities she supports; Women's Aid and The Prince's Trust. Michelle is also the Patron of Hull Children's University, Children In Care Programme where she helps ensure that 'looked after children' have high self esteem, high aspirations and opportunities to achieve.

Undoubtedly, one of Michelle Dewberry's hardest challenges came when she ran as an independent pro-Brexit candidate in the June 2017 General Election for her hometown, Hull West and Hessle. She came fourth out of seven candidates, with 5.5% of the vote.

Looking to shake up traditional party politics, Michelle received unbelievable support from local people and received almost 2,000 votes in just a 4 week campaign window.
Speech Topics
An author, businesswoman, coach and speaker, Michelle Dewberry's overriding passion is current affairs, where for many years she has debated political topics on television and throughout the media.

In addition to business, politics and current affairs, Michelle also speaks about more sensitive subjects such as mental health, depression and suicide. She has opened up about past experiences of her own, and wants to remove the stigma surrounding these issues, and help normalise the discussion of mental health.

Michelle Dewberry is a busy, in-demand keynote speaker and motivational speaker, across all industries and sectors of business; she regularly inspires audiences with her story of achieving success against the odds.

Demonstrating that success does not happen by chance, but rather by choice, Michelle was once featured in the Financial Times, following a company event where she'd spoken and the business subsequently experienced its highest-ever sales figures which was directly attributed to her speech.
Tags for Michelle Dewberry
You may also be interested in...