Ruth Badger
Businesswoman, entrepreneur and The Apprentice runner-up 2006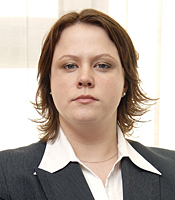 About
Ruth Badger grew up in Wolverhampton. At 16 she left full time education, with just three GCSEs, to join a Youth Training Scheme in the Civil Service. Her first big break came when she got a job working as a Processor for a local Financial Services Company.

Starting with no experience, Ruth quickly excelled. Promoted four times in just 18 months, Ruth was awarded four company awards based on her performance. This included the fantastic accolade of National Employee of the Year for GE Capital, receiving an all expenses cruise around Europe.

Not content with her success, Ruth left GE Capital for another Financial Services Company based in the North West. At 24 years of age, not only did Ruth achieve an Executive level position, she also doubled her earning potential.

Quickly promoted, Ruth then transformed the company's performance and turnover. Finally as Sales Director, she became accountable for all revenue generation and played a fundamental part in increasing the turnover from 3.1 million to 13.1 million in 2 years. Ruth played a major role in the flotation of the business on the Stock Market in 2004 and held an Executive board position for three years.

Then, the opportunity arose to apply for "The Apprentice"…….

Ruth proved week after week that she was the top performer in the show and excelled at all tasks. Outselling all other Executives in each task, Ruth consistently demonstrated her business acumen and ability. Ruth left the series after working for Sir Alan Sugar for 6 months in an Executive role.

Since leaving "The Apprentice", Ruth has gone on to achieve massive success. She has fronted her own trouble shooting show "Badger or Bust" and was a mentor in Sky one's "The Big Idea".

Ruth launched Ruth Badger Consultancy Ltd in June 2006 after leaving "The Apprentice". With countless major International Companies as clients, Ruth Badger Consultancy provides Company MOT's and 'real life' business advice. Ruth's second business, Ruth Badger academy Ltd, is a Careers, Enterprise and training company.

Having achieved all of this by her 32nd birthday, Ruth Badger is walking proof that a positive attitude can get you where you want to be in business and in life.
You may also be interested in...