Richard Farleigh
Entrepreneur and former Dragons' Den investor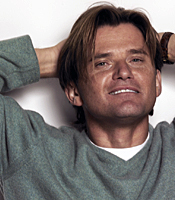 About
Currently residing in London, Australian multi-millionaire Richard Farleigh is a business angel and former economist.

Born in Victoria, Australia, Richard had a tough upbringing, as the son of an alcoholic sheep shearer with a large family of 11 children. He was sent to a foster home at the age of three and was described as 'backward' by one of his early teachers.

Despite this he went on to excel later in life at mathematics and chess, winning a scholarship to read economics at the University of New South Wales. After graduating with honours at 23, he joined Bankers Trust Australia in Sydney - his focus was on predicting big picture trends and the effects on the currency and interest rate markets. He was subsequently hired to run a hedge fund in the tax haven of Bermuda. There he became friends with a chess grand master, and three years later had earned enough to semi-retire, aged 34, and move to Monte Carlo.

It was at this point that Richard spent much time investigating research from Oxford University in the UK that had potential commercial applications. IndexIT was the company formed to fund some of these ventures; it was later sold to Beeson Gregory for £20m. He made millions of dollars after investing his own capital in British technology companies. He is ranked as the 876th on the Sunday Times Rich List with an estimated net worth of £66million.

1999 saw Farleigh invest 2m in the renovation of the old French Embassy mansion in London's Portman Square, turning it into the private members club Home House. In 2005, he published a guide to investing 'Taming the Lion: 100 Secret Strategies for Investing'. Richard Farleigh plays chess as a hobby, and is an internationally-ranked player who has represented both Bermuda and Monaco at the Chess Olympics.

From 2006 - 2007 Richard Farleigh appeared as an investor on the popular BBC2 entrepreneur show Dragons' Den for the show's third and forth series. His appearances on the show echo those of former Dragon Doug Richard by always trying to offer constructive advice to contestants, even when not interested in investing, as opposed to negative comments often offered by some of his fellow Dragons. During his time on the show Richard made the most investment offers compared with any of the other Dragons.

Whether you're looking for a light-hearted after-dinner talk or a keynote conference speaker, Richard Farleigh is charismatic, humorous, engaging and highly sought-after.
You may also be interested in...