Razorlight
English indie rock band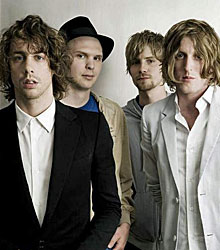 About
In October 2002, the newly-formed Razorlight recorded demos at Hackney's Toerag Studios, hot on the heels of the White Stripes. The demos soon caught the attention of Xfm's John Kennedy who took the unusual step of playing three tracks: 'Rock'n'Roll Lies', 'Rip It Up' and 'In The City' on his show.

After a frantic bidding war Mercury Records signed Razorlight in 2003 and the group began recording their debut album, 'Up All Night', produced, in part, by Mercury's famed MD Steve Lillywhite.

'Up All Night' was released in July 2004 and seven days later shot into the UK album chart at number three. In that same week Razorlight made a spectacular appearance on Top of the Pops, played to millions in front of Buckingham Palace at the Olympic Torch Parade and rounded off their tour of British institutions with an early morning set at Glastonbury.

Their impact was immediate, with early comparisons being made with Oasis and The Libertines. NME described them as "the most extraordinary mix of rock'n'roll adrenaline and huge personalities to fall out of Britain since the Gallagher brothers."

Just twelve months after their first appearance, Razorlight found themselves back at Glastonbury, this time as a headline act. A week later they played for the world at Live8. It was the culmination of a monumentous year which saw them accepting awards and nominations from Q Magazine, NME, The South Bank Show and Nordorf Robbins to name but a few.

The album, Razorlight, was released in July 2006. Produced by the legendary Beatles, Sex Pistols, Pink Floyd and Roxy Music producer Chris Thomas, it's heralded as the record that turned Razorlight into a globally massive band.
You may also be interested in...