Nina Schick
Geopolitical commentator and AI expert specialising in deep fakes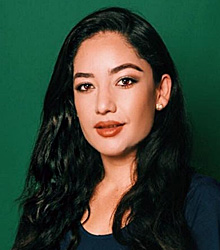 About
An independent political consultant, commentator, broadcaster and author, Nina Schick specialises in how technology and artificial intelligence are reshaping democracy, society and geopolitics in the 21st century.

Nina has worked on several black swan political events that shaped her thinking towards how technology and politics are colliding in the Fourth Industrial Revolution. This includes her front-line work on the UK's EU Referendum campaign in 2016, and the evolution of Brexit since then.

She also worked on Emmanuel Macron's Presidential campaign in 2017; and on assessing Russian election interference in the United States and around the world since 2016.

In 2018, Nina advised a group of global leaders including Eileen Donahoe, the Executive Director at Stanford University's Global Digital Policy Incubator; Joe Biden, the former Vice President of the United States; and Anders Fogh Rasmussen, the former Secretary General of NATO, by leading research on next-generation disinformation in the form of AI generated deep fakes.

Nina is a political advisor to select technology firms, including Dalia Research, which is reshaping the global insights industry by harnessing the app economy and advanced data science to gather and analyse real-time data on worldwide public opinion.

In addition, she is a contributor to international broadcasters including Bloomberg, Sky, CNN and the BBC. She has been published by The Times, CNN, the Sunday Telegraph and the New Statesman amongst others. Her book, Deep Fakes and the Infocalypse: What You Urgently Need To Know (Octopus, 2020), warns us of the dangerous political consequences of the 'Infocalypse', an information overload that may affect national security and public trust in politics.

Nina Schick holds degrees in history and politics from University College London and the University of Cambridge, and spent years cutting her political teeth in journalism and research at organisations including BBC Parliament; Spiegel Online; The Sunday Times and UK Parliament.

Half German and half-Nepali, Nina speaks fluent German, Spanish, Nepali and Tamang; she also speaks French and Hindi. She divides her time between London, Berlin and Kathmandu.
Speech Topics
An established and in-demand keynote speaker, Nina Schick has participated in hundreds of live debates, global summits, conferences and television broadcasts, including prime time shows such as Good Morning Britain, Newsnight and the Today Programme.

She's also spoken in the European Commission, the German Chancellery, The Foreign and Commonwealth Office, the European Council and the European Parliament.

Nina's popular speech titles include:
The Age of (Dis)Information: why every company is at risk, and how to prepare.
China and Covid-19: China's aggressive new information war against the West.
Black Lives Matter: African Americans as a target for soviet disinformation since the Cold War.
2016 – 2020: The Evolution of Russian disinformation tactics in American politics.
Deepfakes: How AI-generated fake porn has become the new frontier of disinformation. See below for an expanded synopsis.
US2020: The Domestic Disinformation war for the White House.

Deep Fakes
Nina Schick addresses the real-world implications of deep fake technology and what could become the biggest information and communications meltdown in world history. She tells us what we need to do to prepare and protect ourselves, as too often we build the cool technology and ignore what bad guys can do with it before we start playing catch-up. But when it comes to deep fakes, we urgently need to be on the front foot.

Recent advances in AI mean that by scanning images of a person (for example using Facebook or Instagram), a powerful machine learning system can create new video images and place them in scenarios and situations which never actually happened. When combined with powerful voice AI, the results are utterly convincing.

So-called 'Deep Fakes' are not only a real threat for democracy but they take the manipulation of voters to new levels. They will also affect ordinary people. This crisis of misinformation we are facing has been dubbed the 'Infocalypse'.

Using her expertise from working in the field, Nina Schick reveals shocking examples of Deep Fakery and explains the dangerous political consequences of the Infocalypse, both in terms of national security and what it means for public trust in politics.

She also unveils what this means for all of us as individuals, how deep fakes will be used to intimidate and to silence, for revenge and fraud, and just how truly unprepared governments and tech companies are for what's coming.
You may also be interested in...